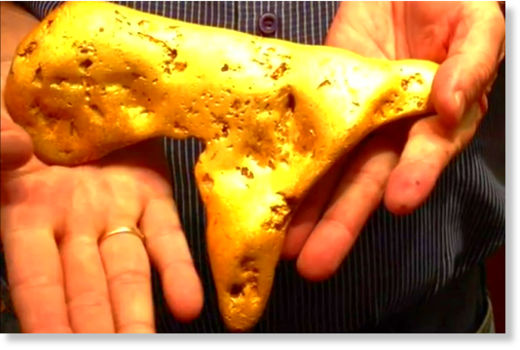 An Australian amateur prospector has hit the proverbial jackpot: he unearthed a huge gold nugget weighing 5.5 kilograms (12 pounds). The current market value of the precious metal puts this nugget at a whopping value of around US$315,000.
The unidentified man used a hi-tech metal detector near Ballarat in the state of Victoria to find the treasure 60 centimeters (2 feet) underground. The region is known for its gold prospecting, but local experts say this find is unprecedented. "I have been a prospector and dealer for two decades, and cannot remember the last time a nugget over 100 ounces (2.8kg) has been found locally," Cordell Kent, owner of the Ballarat Mining Exchange Gold Shop, told BBC News. "It's extremely significant as a mineral specimen. We are 162 years into a gold rush and Ballarat is still producing nuggets - it's unheard of."
"There's nothing like digging up money, it's good fun," the unidentified prospector told
The Courier
.