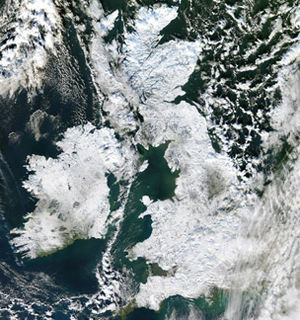 Snow could fall on most of the UK by the weekend as the cold snap continues to bring freezing temperatures to most of the country.
Eastern areas have borne the brunt of the snowfall with 42 schools closing in Norfolk, all planes grounded at Norwich International Airport and a six-vehicle pile-up on the A11 leaving three people with injuries.
The Met Office recorded snow depths of 8cm (3in) in Norfolk and Suffolk as the snow continued to fall.
The lowest temperature recorded overnight was minus 5.7C (22F) at Altnaharra in the Scottish Highlands, the Met Office said.
Most of the country was dealing with temperatures of around 0C-1C (32F-34F) and the cold snap is set to continue, according to John Lee, forecaster for MeteoGroup, the weather division of the Press Association.
Many areas will dry out by Wednesday but there is a chance that snow could return to most of Britain on Friday, with some potentially heavy falls in central and eastern areas.
"This afternoon we have got some fairly heavy snow showers running down the North Sea coast but they are fairly scattered, but eastern areas are seeing some fairly heavy snowfalls," Mr Lee said.
"Tomorrow we will have dry and sunny spells. This time it seems to be in the west that there is an area of rain pushing into Northern Ireland and western Scotland, and this could turn to snow in western Scotland as it pushes further inland.
"There are signs that it will turn more unsettled into Thursday and Friday with increased wind and Atlantic weather systems pushing in.
"If that happens we could see some fairly heavy snowfalls and the majority of the UK will get some snow - eastern areas are slightly more prone with the cold weather.