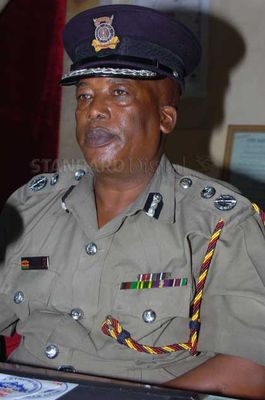 Rift Valley PPO John M'Mbijiwe, the commandant of Anti-Stock Theft Unit Michael Rimi Ngugi and Njoro OCPD Peter Njeru Nthiga have been interdicted over the saga surrounding a man who was arrested and charged with impersonating as a senior police officer.
The National Police Service Commission also named new commanders to replace the interdicted officers.
Mr Levin Mwandi will replace Mr M'Mbijiwe in Rift Valley, Ngugi's deputy Solomon Makau takes over at ASTU while Nthiga's deputy Esau Ochokorodi will take over in Njoro.
Commission chairman Johnston Kavuludi said they have established a committee to investigate the matter and report within 21 days.
The team will comprise three officers from the Police Service Commission- Major Muiu Mutia, Mary Owuor and Inspector General of Police David Kimaiyo who will nominate a representative.
Other members of the team include those from Kenya National Commission on Human Rights, Public Service Commission, Law Society of Kenya and representative from the Attorney General's office.
Kavuludi who addressed journalists in Nairobi said the team will be assisted by a joint secretariat of Kenya Police Service and Administration Police and a counsel from the AG's office who will prepare briefs and lead interviews of those appearing before the committee.
The Commissioner said the incident in which Mr Joshua Waiganjo has been impersonating as a senior police officer for more than ten years has exposed serious lapse that has outraged the nation.
"We have put in place mechanisms to ensure that we get to the bottom of the matter such that proper investigations are conducted to reveal exactly how the lapse occurred and who within the police service is guilty of any act of omission or commission," said Kavuludi.
He added action will be taken on those found to have dealt with Waiganjo.
Kavuludi said the decision to interdict the three was arrived at after a meeting the commission held in which Kimaiyo presented findings of investigations they had conducted on the fake cop and his activities.
He added the commission has ordered a thorough audit of the composition of all police officers in the country and a report will be made public in 30 days.
"The audit will confirm the number of police officers in the service their qualifications, their placements, ranks and regional, ethnic and gender composition," he said.
According to Kavuludi, the team probing the saga will seek to establish inter alia whether Waiganjo was a police officer, a police reservist and who recruited him, the circumstances under which he operated as a police officer and who gave him orders and instructions.
The team will also seek to know what facilities including transport and equipment he was issued with, whether this is an isolated case or there are other persons impersonating as officers, to what extent was he privy to confidential information, if there is a connection between him and the Baragoi incident and other incidents of serious crimes within the country and other related purposes.
President Kibaki and Prime Minister Raila Odinga waged into saga and ordered thorough investigations and action.
The PM said the issue demonstrates how rotten the police service is and asked the Inspector General to conduct investigations
Kibaki ordered investigations into the scandal saying a new team of independent investigators had been selected.
Details have emerged to show Waiganjo had been operating from the Anti-Stock Theft Unit in Gilgil.
He had also at one time posed as a DO from Pokot and harassed a group of Administration Police officers in Nakuru while seeking a favor.
Waiganjo, is alleged to have sacked and abused junior officers, and even attended top security meetings on various occasions over period of five years he easily passed off as a top policeman.
He also donned police uniform, complete with insignia showing he was a senior assistant commissioner of police.
On Saturday M'Mbijiwe, who was named by the suspect's father Ibrahim Waiganjo as his son's close friend, spoke to journalists in Nakuru and said he deserved a recommendation for arresting the imposter.
He said Mr Waiganjo accompanied senior police officers to Baragoi within "the structures of his supplementary role as a police reservist.