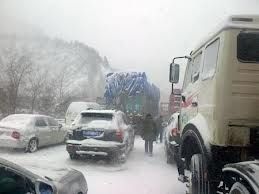 A freezing blizzard hits the Xilin Gol region of Inner Mongolia, leaving drivers stranded in sub-zero temperatures with visibility as low as ten metres.
A freezing blizzard pummeled the Xilin Gol area of China's Inner Mongolia Autonomous Region on Saturday morning, severely affecting road traffic.
On the No. 308 provincial highway, vehicles found themselves stuck in deep snow as severe blizzards lowered visibility from 200 metres to less than ten metres in just ten minutes.
The blizzard started on Friday night and brought almost one metre of snow to the highway by the morning.
Local traffic authorities have launched an emergency weather response plan and have been warning local residents to avoid unnecessary outdoor activities.
According to meteorologists, local temperatures are expected to drop 10 to 13 degrees Celsius over the next two days in the central and eastern parts of Inner Mongolia.