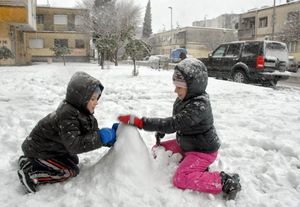 Podgorica, Montenegro - Blizzards blocked roads, stranded villages, disrupted power supplies and temporarily shut down an airport in the Balkans on Tuesday, the fourth straight day of tough winter weather in the region of southeastern Europe.
In one of the worst-hit areas, snowdrifts and avalanches blocked roads in hilly northern Montenegro, where about a meter (3 feet) of snow fell overnight, officials said.
Across the border in southwestern Serbia, heavy snowfall blocked roads to more than a dozen villages, with some left without electricity and schools being closed for the rest of the week, officials said.
"We have got heavy machinery out and we are doing all we can," said emergency official Samir Bakic. "The wind is making the effort more difficult."
At least nine deaths across the region have been blamed on the snow and deep freeze, with temperatures as low as minus-15 Celsius (5 degrees Fahrenheit).
Elsewhere in Serbia, where snow began to fall Saturday, officials said road crews were still struggling to clear even the central squares of some cities. Authorities banned heavy trucks from Serbia's roads, saying they want to prevent them from skidding and blocking passages.
Predrag Maric, Serbia's top emergency official, apologized Tuesday for failing to clear roads over the weekend, when hundreds of people were stranded in buses and cars.
To the south, in Kosovo, heavy snow blocked villages in the west, toward the border with Albania, where classes in local schools were suspended. Traffic was snarled elsewhere too, authorities in Kosovo said.
The milder climates of Montenegro's capital, Podgorica, and the nation's Adriatic coast usually escape tough winter weather, but snow is blanketing Podgorica, too, and closed its airport for much of the day Tuesday.
In Bosnia, some areas were left without electricity. And in Croatia, doctors warned the elderly and sick to stay indoors as hospitals reported dozens of cases of broken limbs from falls on the ice and snow.