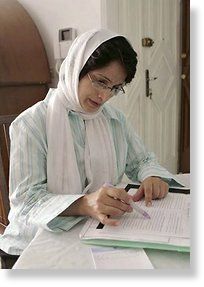 Tehran, Iran - An imprisoned human rights lawyer serving a sentence for "acting against national security" ended a 49-day hunger strike on Tuesday after judicial authorities acceded to her demand to lift a travel ban imposed on her 12-year-old daughter, her husband said.
The lawyer, Nasrin Sotoudeh, 49, who until her imprisonment in 2010 was one of the last lawyers taking on high-profile human rights and political cases in Iran, decided in October to go on the hunger strike out of fear of increasing limitations imposed on her family. She fell into fragile health during the hunger strike, in which she would drink only water mixed with salts and sugar. Her weight dropped to 95 pounds.
It was
the second time
that Ms. Sotoudeh felt compelled to quit eating. She declared her first hunger strike in 2010, after her family was forbidden to visit or make phone calls. In that case, the authorities capitulated after four weeks, allowing her husband and two children to visit weekly.
Ms. Sotoudeh has also written several public letters from prison, one of which thanked the head of the judiciary for putting her in jail, saying she was horrified by the thought of being free while her former clients were still in prison.
In recent years, several lawyers representing people suspected of security crimes have been arrested while others, like
Shirin Ebadi
, who won the Nobel Peace Prize in 2003, have left the country. Tuesday's ruling, which had not been officially confirmed by the authorities here, seemed to show that Iranian officials are receptive to pressure in human rights cases - something that Ms. Sotoudeh has argued consistently.
Iranian officials deny there are any political prisoners in Iran, saying that all those behind bars have been tried according to the country's laws. Ms. Sotoudeh is serving a six-year prison term since her conviction last year on the national security charge and over "misusing her profession as a lawyer."
During a news conference last week, Mohammad Javad Larijani, a member of an influential political family and the head of the judiciary's self-appointed Human Rights Council, said that from Iran's official point of view there was nothing out of the ordinary about Ms. Sotoudeh's imprisonment.
"Her dossier has had its course," he told reporters, emphasizing what he called the independence of Iran's judicial system. "Judges and lawyers have exhausted all legal possibilities, and now she is doing her time in jail." He said that contrary to reports, Ms. Sotoudeh was in good health. "We care about our inmates, whether they are on hunger strike or not," Mr. Larijani said.
International rights activists and human rights groups have tried to highlight Ms. Sotoudeh's case, and international lawyers, movie directors and politicians - among them Secretary of State Hillary Rodham Clinton - have called on Iran to set her free. Ten days into her hunger strike, on Oct. 26, Ms. Sotoudeh, together with Jafar Panahi, an Iranian filmmaker who is under house arrest, was
awarded the Sakharov Prize for Freedom of Thought
by the European Union.
The international attention, widely replayed on Persian-language satellite channels at odds with Iran's rulers, has helped raise her profile among middle-class Iranians, who generally admire her persistence. The attention has made it increasingly hard for Iranian officials to ignore her case, Ms. Sotoudeh's husband, Reza Khandan, a computer engineer, said in an interview.
Mr. Khandan said that his wife is a great admirer of Daw Aung San Suu Kyi, the Burmese opposition leader and Nobel laureate, who spent years under house arrest, became an international symbol of resistance and is now a political leader herself.
"But this is her fight, and not our children's," Mr. Khandan said, "so Nasrin does everything she can in order to have something of a normal life."
This article has been revised to reflect the following correction:
Correction: December 4, 2012
An earlier version of this article misstated the length of a hunger strike by Nasrin Sotoudeh. It was 49 days, not 47.