A woman in Pessac, near Bordeaux, was stunned when she opened her telephone bill from Bouygues Telecom - it was for €11,721,000,000,000,000 or €11.7 quadrillion.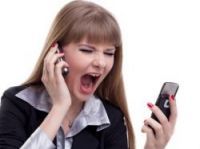 Solenne San Jose said it nearly gave her a heart attack - and it got no better when she contacted Bouygues Telecom customer service, the woman refused to believe there was a problem.
She told
Sud Ouest
she was on the phone for 45 minutes and still the woman refused to accept there was a mistake.
"When I explained that there was obviously a mistake she replied that the totals were calculated automatically and that the debits would start automatically."
Solenne's bill - which came after she lost her job and decided to cancel her contract - is 5,800 times France's GDP and she said she told the agent: "It's not possible. With so many zeros it's not one lifetime I would need - it's millions of lifetimes."
Now after several phone calls and starting formal action to contest the bill - which cost her €12.50 - Bouygues has admitted there had been a printing error. Her bill should have been €117.21.
The company director of customer service called her to say that it was dropping the bill, wiping the slate on her €117.21 debt and refunding her €12.50 legal fees.