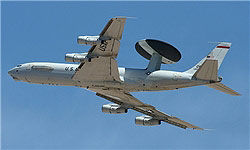 A senior Iranian air defense commander stressed Iran's capability to confront US spy planes and drones, and said his forces have so far warned tens of US spy planes, including the advanced Airborne Warning and Control System (AWACS) aircraft, to keep away from Iranian airspace.
"In the last ten years, we have issued countless warnings even to those US AWACS airplanes which were flying over Iraq's airspace or along the free airspace of the Persian Gulf," Commander of Khatam ol-Anbia Air Defense Base Brigadier General Farzad Esmayeeli told FNA, and noted that the spy planes received immediate warnings when they tried to approach Iran's airspace in violation of the international regulations.
He further reiterated Iran's high capabilities for combating enemies' electronic warfare, saying the country has electronic jamming devices which can destroy the GPS systems of hostile aircraft.
Esmayeeli also hailed the successful performance of the Iranian air defense units in pushing back enemy spying operations and shielding the country's airspace against penetration of enemy spy planes.
"Thanks to our radar and electronic eavesdropping - that is active and passive - systems, we have not allowed such a thing (enemy spying operations) to happen thus far," stressed the commander of the Iranian air defense base.
In similar remarks last month, Esmayeeli had said that Iran's air-defense units have issued 50 warnings to alien aircraft during the Non-Aligned Movement (NAM) summit in Tehran late in August.
"During the Non-Aligned Movement summit we sent 50 warnings to the aircraft of the regional and trans-regional countries, which were trying to approach the airspace of the Islamic Republic of Iran," Esmayeeli said at the time.
In recent years, Iran has made great achievements in the defense sector and gained self-sufficiency in essential military hardware and defense systems.
Iran has made giant achievements in the production of telecommunication devices which work in various frequencies. The Iranian defense ministry has also produced home-made Radar systems with various ranges during the last few years.
Iran has locally made radar systems with different ranges up to some 1,850 miles (3,000 kilometers).