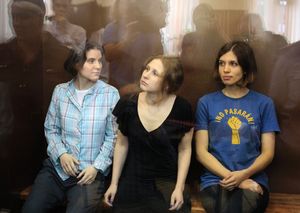 Russia, Moscow - A Moscow appellate court postponed a hearing on Monday in the case of the punk protest band Pussy Riot after one of three defendants said that she wanted to fire her lawyers because of disagreements.
The three women, Nadezhda Tolokonnikova, 22, Yekaterina Samutsevich, 30, and Maria Alyokhina, 24, were convicted in August of hooliganism and sentenced to two years in a prison colony for staging a "punk prayer" in Moscow's main Russian Orthodox cathedral last February. They said the stunt was intended to protest against Vladimir V. Putin, who was running for president at the time, and to criticize support for Mr. Putin by the church patriarch, Kirill I.
The prosecution of the three women, two of them mothers of young children, became an international sensation, and prompted wide criticism of Russia over the suppression of political speech. The women received support from a number of major music stars, including Sting and Madonna, as well as many governments. On the day of their conviction and sentencing, supporters rallied in dozens of cities around the world, many wearing colorful balaclavas - Pussy Riot's trademark head gear.
But the judge who convicted the women, Marina Syrova, said that political comments were spliced into a video of the stunt later and that her verdict was based on the infiltration of the Cathedral of Christ the Savior and the women's behavior in front of the altar, which she said amounted to "the insult and humiliation of the Christian faith and inciting religious hatred."
At the appellate hearing on Monday in the Moscow City Court, Ms. Samutsevich told a panel of three judges that she no longer wanted to be represented by her lawyer, Violetta Volkova, or by two other defense lawyers. "My position in the criminal case does not coincide with their position," she said.
Ms. Samutsevich said she had not yet signed an agreement with a new lawyer, and she did not explain her differences with Ms. Volkova.
Her statement prompted several minutes of procedural wrangling, and two short recesses. Ultimately, the court decided to postpone the hearing until Oct. 10 so that Ms. Samutsevich could take the formal steps needed to request new representation.
With Pussy Riot now one of the best-known symbols of the Russian political opposition, any development in their case attracts enormous attention and mobilization efforts. Security was tightened around the courthouse on Monday as defenders of the Russian Orthodox Church chanted hymns and engaged in public prayer. Meanwhile, supporters of Pussy Riot brought an inflatable doll to the courthouse wearing a balaclava. Several people were arrested, including members of a Ukrainian male dance group called Kazaky, who appeared in support of Pussy Riot.
Ms. Volkova said that she learned that Ms. Samutsevich wanted a new lawyer on Saturday but declined to comment on what led to that request. Another defense lawyer, Nikolai Polozov, rejected assertions that the Pussy Riot legal team was stalling.
"We are not making any attempts to drag out this process because it is pointless," Mr. Polozov said outside the courthouse. "Ten days will make no difference between whether they approve their conviction or change it. So this has no tactical gain."
Mr. Polozov said he believed pressure was being put on Ms. Samutsevich in the detention center where she is being held, though he did not say why or by whom. He noted that defense lawyers were not allowed to visit with her over the weekend.
Among the roughly 100 people gathered outside the courthouse, was Galina Startseva, who wore a floral head scarf and a heavy coat, and said the three women must atone. "If they truly repent, then that will be above all of this," she said, gesturing to the courthouse and the swirl of people. "All of these hearings will have been in vain if God forgives them."
In her bag, Ms. Startseva carried a newspaper clipping about Ms. Tolokonnikova and her husband being filmed having sex in a museum alongside other couples, in a 2008 protest against Dmitri A. Medvedev, who was president at the time.
"These are not young women," she said. "They are sinners."
Andrew Roth and Anna Kordunsky contributed reporting.