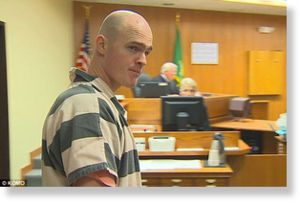 A vigilante who gunned down two registered sex offenders in Washington state was unrepentant as he was sentenced to life in prison on Tuesday.
Patrick Drum, 34, told a judge that his victims deserved to die.
Drum, who is himself a convicted felon, admitted to stalking Gary Lee Blanton, 28, and Jerry Wayne Ray, 57, and shooting them multiple times in their homes near Port Angeles, Washington.
Blanton was convicted in 2001 of third-degree rape of a 17-year-old girl. Ray was convicted in 2002 of raping two children, age 4 and 7.
Blanton's family claims he was put on the sex offender registry after he was caught having sex with his high school girlfriend when he was a senior and she was a freshman.
Drum's supporters filled the courtroom as authorities admitted some see him as a hero for the premeditated murders.
'It is unfortunate there are those people who admire what he did,' Clallam County Prosecuting Attorney Deb Kelly said, according to the
Sequim Gazette
. 'It is despicable and disgusting.'
The murders in June in rural Washington sparked a massive police manhunt for Drum. After his arrest, Drum told officers who questioned him about the killings that 'it had to be done.'
He also said he would have killed more sex offenders if he had not been caught.
Both Blanton and Ray lived in Drum's neighborhood and he knew them both. Blanton's family says he and Drum were friends for nine years before the murder.
Drum tried to interrupt the prosecutor as she blasted the ex-con for killing two men with families.
Blanton has a wife and two young children. Ray lived with his elderly father and helped care for him.
When it came time for Drum to give a final statement before his sentencing, he refused to apologize for the murders.
'It was never my intent to hurt the families... it's like collateral damage,' he told the court. He asked his supporters to leave the grieving family members alone.
'As for the men themselves, actions speak louder than words,' he added.
Superior Court Judge S Brooke Taylor handed down to two life sentences without parole, plus several years for burglary and unlawful possession of a weapon by a felon.