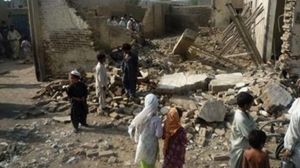 US assassination drone strikes have left at least 21 people dead in Pakistan's northwestern tribal region near border with Afghanistan during the past 48 hours, Press TV reports.
Pakistani officials told Press TV that nine people were killed after a US drone fired four missiles at two vehicles in Mana area of Shawal district in North Waziristan on Sunday morning.
This is while on Saturday twelve people lost their lives when a US drone targeted a building in the same troubled region.
Washington claims its drone strikes target militants, although casualty figures clearly indicate that Pakistani civilians are the main victims of the assaults.
Despite Pakistani government's repeated calls on Washington to end the drone attacks, the US government continues its strikes on the tribal regions of the country.
The killing of Pakistani civilians, including women and children, in the US drone strikes has strained relations between Islamabad and Washington, prompting Pakistani officials to send warnings to the US administration over the assaults.
The aerial attacks were initiated by former US President George W. Bush, but have escalated under President Barack Obama.
Pakistanis have held many demonstrations to condemn the United States' violations of their country's sovereignty.