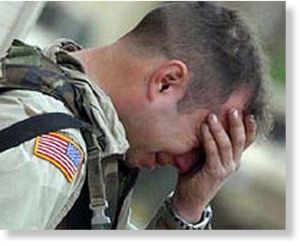 Suicides among active-duty soldiers in July more than doubled from June, accelerating a trend throughout the military this year that has prompted Pentagon leaders to redouble efforts to solve this problem.
The Army, which is the only branch of the military that issues monthly press statements on suicides, said 26 active-duty soldiers killed themselves in July, compared to 12 in June. The July total was the highest for any month since the Army began keeping such statistics, according to Lt. Col. Lisa Garcia, an Army spokeswoman.
The Marine Corps had eight suicides in July, up from six in June. The July figure was its highest monthly total of 2012 and pushed its total for the year so far to 32 - equal to the Marines' total for all of 2011.
The Air Force said it had six in July, compared to two in June. The Navy had four in July but its June figure was not immediately available.
Higher numbers
The Army's suicide numbers have been higher than the other services, in part because it is substantially larger than the Marine Corps, Navy and Air Force. The Army also has had more members in combat over the past decade. It was the main ground force in Iraq and has a preponderance of the U.S. troops today in Afghanistan.
For the first seven months of 2012, the Army recorded 116 suicides among active-duty soldiers. If that pace were maintained through December the year's total would approach 200, compared to 167 for 2011.
"Suicide is the toughest enemy I have faced in my 37 years in the Army," said Gen. Lloyd J. Austin III, the Army's vice chief of staff, who is spearheading his service's efforts to find ways to halt the surge in suicides.
"That said, I do believe suicide is preventable," he added. "To combat it effectively will require sophisticated solutions aimed at helping individuals to build resiliency and strengthen their life coping skills."
Suicidal behavior in the military is thought to be related to cumulative stress from combat duty, but it also is believed to be linked to a range of other pressures such as marital and financial problems.
Of the 26 active-duty soldiers who committed suicide in July, all were male and only two were officers. Thirteen were married, 10 were single and three were divorced. A breakdown of the deployment history of 14 of the 26 showed that six had never been deployed, seven had been deployed between one and three times, and one had been deployed six times.