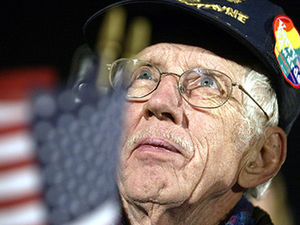 The elderly are among the hardest hit by the U.S. housing crisis, with
600,000 Americans over the age of 50 facing foreclosure.
The American Association for Retired Persons (AARP) found that to date, more than 1.5 million Americans have already lost their homes - and the elderly are increasingly more likely to join them.
Those over the age of 80 are in the worst condition, with one out of every 30 facing foreclosure
. Often having burnt through their savings, receiving an inadequate pension, and dealing with the loss of a deceased spouse's retirement benefits, the elderly struggle to make their mortgage payments.
"These are people who in many instances have never missed a payment in 20 years,"
said Rep. Elijah Cummings.
"You see grown men crying because of the potential loss of a home."
The housing crisis brought down property values, and 16 percent of older homeowners owe more than their houses are now worth. In the past five years, the number of seriously delinquent older Americans has risen by 450 percent.
Although 80 percent of Americans over 50 own a home, they are the group most at risk of "serious delinquency" on mortgages. Three million are currently at risk of losing their homes.
Of the elderly, African-Americans and Hispanics are struggling the most. Of older African-Americans, 3.5 percent were in foreclosure at the end of last year, compared to 3.9 percent of older Hispanics and 1.9 percent of whites.
Roy Johnson, 79, allowed the Georgian home he owned since 1963 to fall into foreclosure when he could no longer make his mortgage payments. Now, he lives in his 55-year old daughter's basement, he told the
New York Times
.
"I planned to die in that house,"
he said.
"But I guess it won't work out that way."
Jewel Lewis-Hall, 57, is working two jobs and still struggling to make her mortgage payments on her Washington home.
"You're used to living a certain way, but one thing leads to another,"
she said.
"It's not like I have a new car or anything. I'm driving one from 1991."
In addition to harming ones financial security, AARP also found that those facing foreclosure are more likely to have increased medical visits for mental health conditions (including anxiety and suicide attempts), hypertension and stress-related conditions.
For Americans over 50, foreclosure rates have gone up by 873 percent since 2007, and 90+ day delinquency rates have gone up by 294 percent for the same age group.
Some foreclosure victims have been able to renegotiate their loans with banks to keep their homes. Others have sold their houses for the low price it would be sold after foreclosure. But in the midst of the Great Recession, foreclosure is on the rise and savings are on the decline. Half of those in their late sixties and early seventies have no money in their retirement accounts, and may be nearing financial catastrophe.
"This is the lowest point in my entire life,"
said 69-year old Charlotte Orton, who is facing eviction and has no family members to stay with in her home state of Florida.