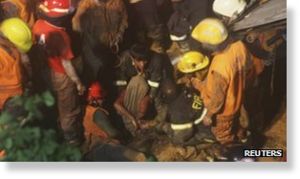 Dhaka, Bangladesh - Landslides and floods caused by heavy monsoon rains killed at least 76 people in southern Bangladesh and rescuers Wednesday were searching for more missing, officials said.
Three days of rain had hit the region of small hills and forests, and huge chunks of earth and mud buried flimsy huts where families were sleeping late Tuesday and early Wednesday. Many homeless people live at the foot of the hills or close to them despite warnings from authorities.
Monsoon floods are common in Bangladesh, a delta nation of 160 million people. Many of the dead were women and children, and
the death toll is likely to rise as rescuers are searching for several missing people, officials said.
Volunteers using loudspeakers had warned people about the danger of landslides during the recent monsoon rains, said Jaynul Bari, a government administrator in one of the stricken areas, Cox's Bazar district. The floods inundated dozens of villages and were disrupting communications in the region.
The bodies of 32 adults and children have been recovered in Bandarban district, said K.M. Tariqul Islam, the chief government administrator in the area that is 248 kilometers (155 miles) southeast of the capital, Dhaka.
Another 34 people died, most of them in landslides, in neighboring Cox's Bazar district. Bari said 23 bodies were recovered from the debris of mostly mud-and straw huts in the remote Ukhia region and another 11 people drowned in floodwaters.
About 200 displaced people were ferried to school buildings on high ground, Bari said.
In Chittagong, another district in the region, the bodies of 10 people whose houses were buried in landslides have been recovered, fire official Jasim Udddin said.
An airport in Chittagong was closed for hours Tuesday after floodwater swamped its runway, officials said. It reopened Wednesday after rains stopped, they said.
Source: The Associated Press