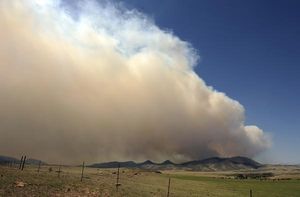 The High Park fire has now surpassed the Missionary Ridge fire as the second largest in state history at 75,537 acres.
High Park fire officials have sent 235 pre-evacuation notices to Bonner Peak Subdivision, including Springs Ranch Road.
Issued at midnight, the pre-evacuation is also for County Road 74E, also known as Red Feather Lakes Road, from the junction of U.S. 287, west to include County Road 37, north to include County Road 76H, east to U.S. 287 and south to County Road 74E.
All residents need to be prepared to evacuate at a moment's notice, according to the Larimer County Sheriff's Office.
Other evacuation orders had been sent out to 998 homes late Friday after a spot fire ignited by wind-blown embersfrom the main blaze erupted north of Poudre Canyon.
The spot fire had grown to 2,000 acres by late Friday, helping to push the fire's total acreage to above 75,537 acres, according to officials.
The Missionary Ridge fire in 2002 near Durango burned more than 70,000 acres. The Hayman Fire, known as the largest in Colorado history, in 2002 burned 138,000 acres near Buffalo Creek.
High Park fire, already the most destructive in state history, consumed 5 to 10 more homes on Friday. That number is unverified, Larimer County Sheriff's Office spokesman John Schulz said today, and the official tally of homes burned remains at 191, already a record for the state.
At a Saturday morning media briefing, fire incident commander Bill Hahnenberg said Poudre Canyon "has been a really problematic area for us." Because of swirling winds, aircraft were unable to fly over the fire at several points, he said, and firefighters were sometimes held back by 200-foot flames.
"Even with six really good crews, sometimes you just can't keep up," he said, while noting that firefighters still saved several homes.
At the beginning of Friday, authorities had reported an encouraging 60 percent containment. Before the day was over the level was at 45 percent.
On Friday the fire, blown by 35 mph winds, "spotted" across Highway 14 near Sheep Mountain in steep, rugged terrain and moved quickly in a northeast direction. All available resources were immediately shifted to the Poudre Canyon.
By 2 p.m., residents in the Hewlett Gulch Road were told to get out. At about 3 p.m., hundreds of residents in the sprawling Glacier View area were told to evacuate. At about 7 p.m., residents in Poudre Park and other areas along Colorado 14, who had been allowed to return Thursday, were told to leave again.
Twice evacuated from her Poudre Park, Mary Montanye says she's grown a little numb after two weeks out of her home. She says she is grateful for firefighters who have saved her house three times since the fire began.
"They did a great job, but we still have a lot of unburned fuel on the property," she said. "This is going to be a long summer and we could lose our home, it could happen."
Overnight, crews were able to build a fire line on the north, linking it to territory burned during the Hewlett fire. Crews will continue to battle the fire on southeast and west flanks today.
But fire has become established north of the Poudre River and is spreading to the east. Large unburned sections in the interior of the fire continue to pose a threat to homes not previously burned and firefighters will try to protect them today, according to a report.
On the western and northwestern flanks, fire continues to burn through beetle killed timber within a watershed that supplies several cities.
The new evacuations prompted the American Red Cross to set up a shelter at the Cache La Poudre Middle School in Laporte, where residents streamed in Friday night.
A total of 1,879 firefighters are fighting the blaze, including 13 type-1 hand crews, 135 engines, 11 bulldozers, and 27 water tenders, according to the fire-incident command website. In addition, there are 15 helicopters, five heavy air tankers and fixed-wing aircraft.
Air crews began working around 8 a.m. this morning.
If winds don't ground the helicopters, all those efforts could have a dramatic effect on the fire, Hahnenberg said. Today's weather was expected to be like Friday's, with temperatures in the 90s, low humidity, winds from the southwest at 25-30 mph, with gusts up to 35 mph.
Hahnenberg said the fire burning in Glacier View is boxed in because it ran into burned fuel from the Hewlett fire to the east and burned fuel in the High Park fire to the south. Crews are working to contain the southeast corner as well.
Schulz said officials are hoping to get people from the Redstone Canyon area back in their homes within next couple of days, if the red flag warnings pass.
The cost of fighting the fire has risen to $25.5 million.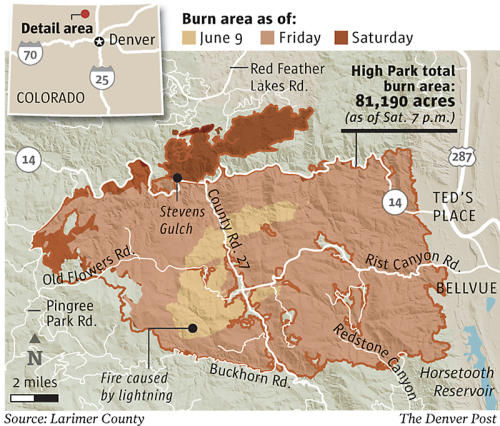 |