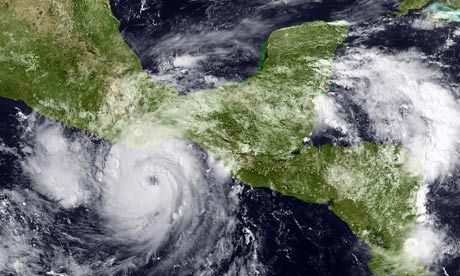 The death toll from Hurricane Carlotta has risen to three in the southern Mexican state of Oaxaca, officials said.
The storm, which weakened and broke up over the weekend, dumped heavy rains on western, central and southern Mexico.
The third person to die in the storm was a 56-year-old woman from the coastal city of San Jose Manialtepec, the Oaxaca Attorney General's Office said.
The woman was killed Friday night as she drove from her riverfront house to another dwelling in an effort to find shelter.
The woman's vehicle was knocked over by the storm's powerful winds, killing her, the AG's office said, adding that a relative traveling with the victim was not hurt.
A mudslide triggered by the storm killed two children, ages 7 and 12, on Friday night in the city of Pluma Hidalgo.
The children's mother was pulled out of the family's house alive, but she is listed in serious condition at a hospital.
Oaxaca Gov. Gabino Cue has asked the federal government to issue a disaster declaration for his state, which was the region worst hit by the storm.
Cities across Oaxaca reported damage to roads, bridges, telephone lines, the power grid and crops.
Carlotta became a Category 1 hurricane on Friday and strengthened to Category 2.
The storm later weakened and made landfall as a Category 1 hurricane before being downgraded Saturday morning to a tropical storm and later to a tropical depression.
The Pacific Ocean hurricane season began on May 15 and ends on Nov. 30.
The first hurricane of the season was Bud, which formed on May 24 and reached Category 3 but caused little damage.
Source: EFE