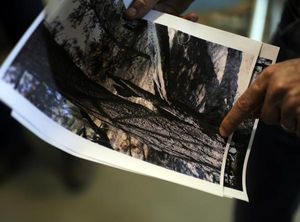 Larimer County Sheriff's officials said this afternoon that the number of homes lost in the High Park fire has reached 181, the most in Colorado history surpassing the Four Mile fire in 2010, which claimed 169 homes.
Meantime, the evacuation order for residents of the Santanka Trail area on the north end of Horsetooth Reservoir has been lifted. Residents in the neighborhoods of Soldier Canyon and Mill Canyon also will be able to return home starting at 6 tonight. This area will only be open to residents for the time being to give them time to move back in and for officials to secure the area.
Fire officials said the main priority for fire crews today remains structure protection and keeping the edge of the fire south of Poudre Canyon and north of Buckhorn Road in check.
This morning's fire briefing put the fire at more than 54,232 acres burned, the third-largest in recorded Colorado history. Only the Hayman fire at 137,760 acres and Missionary Ridge, at 71,739 acres are larger, and those fires happened during the drought of 2002.
Sen. Mark Udall, after attending this morning's fire briefing, said, "This is going to war with Mother Nature." Udall, in addition to several other government officials, is visiting the fire site today.
As some residents were permitted back in their homes, Fran Docherty and his family are looking at spending a seventh day away from their home. While he's eager to return, Docherty said he understands the safety concerns keeping residents out of some areas.
Docherty's home is safe, he said.
"I understand why we can't get back in, it's just frustrating," Docherty said.
Along with his family, Docherty had to evacuate his horses as well. Friday, the shelter caring for the horses ran out of hay. While driving to get more hay, Docherty said his truck broke down.
"It's just one thing and then it's another," Docherty said.
Brett Haberstick, spokesman for the incident command team, said
Evacuee Carole Prieskorn, left, and Cy Johnson comfort each other at a roadblock for the High Park fire Friday. (Hyoung Chang, The Denver Post)firefighting efforts today may be aided by the high humidity overnight last night and lower temperatures today. A chance of thunderstorms in the afternoon, however, is worrisome because it could bring strong winds and lightning, he said.
Also overnight, one firefighter was rushed to a hospital in a helicopter with undisclosed injuries.
The unnamed firefighter was in stable condition and had non-life-threatening injuries, Haberstick said.
Meantime, firefighters have deployed an apparatus rarely used on wildfires to battle the fire, a feller buncher, hoping to more rapidly build a defensible fire line on the north and west flanks.
"It's a very large piece of equipment," said Reghan Cloudman, spokeswoman for the fire. "You can cut a lot of trees quickly."
The gigantic tractor-like machinery used primarily in the timber industry has a large claw that grabs the base of a tree and a circular or chain saw that cuts the trunk. The claw doesn't allow the tree to fall and the tractor then carries it to a pile or loads it onto a flatbed truck.
Three feller bunchers arrived Friday and are now in use.
Firefighters want to use the feller bunchers to build lines around the fire that is currently at 20 percent containment. Firefighters are trying to bring all the resources at their disposal to contain the blaze, Cloudman said.
There are now four spike camps stationed around the wildfire with 120 firefighters in each camp. In all, there are at least 1,553 personnel using 103 engines, 16 helicopters including three National Guard Blackhawk helicopters, battling the fire today.
Firefighters are working in two shifts, day and night, Cloudman said.
The crews have spotted many bears near the fire lines, Haberstick said.
Firefighters were focused on the north and west flanks to protect homes on Friday. Much of their work was focused on a 200-acre fire north of the Cache La Poudre River, burning on Sheep Mountain near the Glacier View Meadows neighborhood.
Darlene McClurg sat with her friends on a bench outside of Vern's restaurant in La Porte today, watching helicopters fly toward and away from the fire.
"It was all kind of scary," said McClurg, who lives in west Fort Collins. Today was the first day in a week when the smoke didn't keep McClurg indoors.
She said knowing the fire would burn for weeks is "horrifying."
Jennifer Blakesley was one of several residents to climb to the top of Bingham Hill with a pair of binoculars. There, Blakesley and others stared at the charred hillsides where the fire had swept over days before.
Blakesley was ordered to evacuate her home early Sunday morning. Earlier this week she learned her home was safe. Now she's waiting to get back.
"It's a matter of being patient," Blakesley said.
Jennifer Hillmann, Larimer County sheriff's spokeswoman, said about 195 firefighters with heavy helicopters managed to build a line around much of the Glacier View spot fire, which was sparked by wind-driven embers Thursday afternoon.
"They were able to get a line around a lot of it," Cloudman said.
Authorities announced Friday at least 112 homes burned in the first days of the High Park fire, setting a record for fire devastation in Northern Colorado.
The homes lost include one each in the Soldier Canyon, Cloudy Pass and Picnic Rock neighborhoods; five in Pine Acres; 21 in Stratton Park; 17 in Poudre Canyon; three in Spring Valley; one on Old Flowers Road; one on Missile Silo Road; 40 in Whale Rock; 12 in Paradise Park; and seven in Rist Canyon.
Larimer County sheriff's executive officer Nick Christensen said Friday the homes were lost early in the fire when firefighters were focused on public safety rather than property protection.
As of Thursday night, the cost of fighting the fire was $9.1 million, Cloudman said.
People with homes in the Cloudy Pass area west of Bellvue will be allowed to return home today. Later this afternoon, homeowners with credentials will be permitted to return to homes at the entrance of Gateway Park.
No access is permitted on roads in the area south of CR74E. This includes areas south and east of McNay Hill, Hewlett Gulch Road, Deer Meadow Way, Gordon Creek Lane and all connecting roads in that area.
Hillmann said residents in the Davis Ranch, Laurence Creek/Redstone area, Buckhorn Road and Stove Prairie Road will receive information at a briefing at 3 p.m. today about the status of their homes.
Dave Lipson, a fire-weather meteorologist assigned to the High Park fire, said winds from a brief thunderstorm Friday fed the blaze, much more than the brief shower dampened it.
The terrain near the Glacier View spot fire is extreme, with many steep pitches and gullies. Fire fuels are abundant, including large patches of beetle-killed timber.
Residents of homes in the Glacier View area will likely not be allowed to return home for a few days.
The east flank of the fire toward Fort Collins is in good shape.
The Red Cross has opened an additional evacuation center at Cache la Poudre Middle School and will be providing food and shelter for evacuees.
View a slideshow of the High Park fire
.