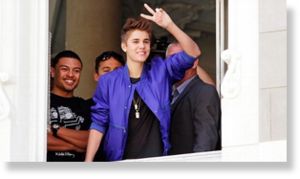 Nearly overwhelmed by the masses of
Justin Bieber
fans who gathered in Oslo for a free performance the teen mega-star gave Wednesday night, Norwegian police reportedly threatened a state of emergency and appealed to the singer for help in controlling his followers.
According to the gossip website TMZ.com
, tens of thousands of Bieber's fans traveled across Europe and descended on Oslo. The 18-year-old singer was scheduled to perform four new songs at the Oslo Opera House as part of his
"Justin Bieber Believe: All Around the World"
television special that airs June 21 on NBC.
But the massive fan presence taxed local police efforts and cast doubt on whether the performance could go forward.
Bieber's manager, Scooter Braun, detailed the situation on Twitter: "The streets are filled ... the bridges are closed. It is out of control. We may have to start the show early or they will cancel.
#bieberfever
"
"To have this much pressure and this much attention on this one single guy, I think that's pretty unprecedented," Jennifer Peros of
Us Weekly
magazine told
Good Morning America
.
TMZ reported police asked Bieber to take the stage early and to reach out to his fans.
He did both.
On Twitter
, the star wrote: "NORWAY - please listen to the police. I dont want anyone getting hurt. I want everything to go to plan but your safety must come first ...," and "for the show to happen u must all listen to the police. We are all concerned for your safety and I want what is best for u. Please listen."
And the show went on. Bieber performed two current songs and four new ones. After the performance, he addressed his 22.5 million followers on Twitter, writing: "that was fun.
#NORWAY
!! Paris tomorrow!
#AtItAgain
#BELIEVE
"
"I don't think you can see how far or how famous he can get from this point on," Peros told "GMA." "I think the worst has yet to come for him."