Fresh blasts from Mexico's Popocatepetl volcano spewed fiery rock and caustic ash over residents around the Mexico City suburb of Puebla, already on edge after weeks of ongoing eruption.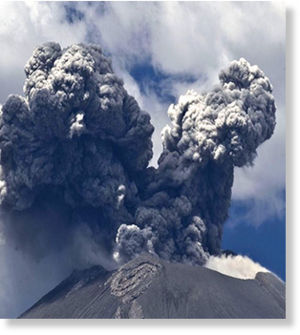 Ash soared 2.5 miles into the sky during early Saturday's explosion, forcing a local airport to close.
Residents of the nearby village of Santiago Xalitzintla rushed into the town square during the middle of the night as terrifying rumblings and blasts caused buildings to shudder.
Last week residents in eastern parts of Mexico City were provided with face masks to protect them against ash raining over the region from Popocatepetl's blasts.
Prevailing winds have so far spared the capital district from significant ash falls.
Popocatepetl has become increasingly active during 2012.
A major eruption in 2000 forced 50,000 people to evacuate in three states that surround the towering mountain.