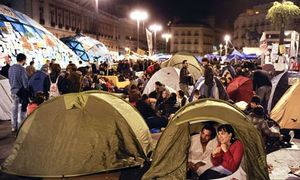 Protesters plan four-day campaign to mark the anniversary of Madrid's 'occupy' movement
The exhibition at Madrid's Ateneo cultural centre is full of precious artefacts carefully conserved to tell the story of a remarkable event in Spanish history; a moment when the world looked on in amazement at the eruption of a new utopian movement for change.
But this is no tribute to the distant past. The nylon tents, hand-painted cardboard signs and posters telling people to share their "dreams of a better world" are only a year old. They come from Spain's
indignado
movement as it marks its first birthday by reclaiming the streets and defying a rightwing government that has pledged to stop it reoccupying Madrid's Puerta del Sol square.
Police helicopters clattered overhead as
indignado
marches headed towards the square. Several thousand people were taking part in a good-humoured demonstration that included a loud birthday party and chants of "the people united will never be defeated". There were similar demonstrations in Barcelona and other cities around the country.
As the
indignados
began to gather, a tense standoff was developing with riot police, who were under orders to prevent them staying overnight. Those instructions came from the conservative government of Mariano Rajoy, whose People's party (PP) triumphed in November elections. It has not just vowed to prevent the
indignados
from camping out, as they did for weeks after taking over Puerta del Sol last year, but is preparing tough public order laws. "We are calling for respect for the law and responsibility," said the deputy prime minister, Soraya Sáenz de Santamaría. "This government will make sure the law is obeyed." As the deadline to leave Puerta del Sol expired, the square was still packed with the chanting
indignados
showing little desire to go home. "I'm staying here all night," said Emilio Torres, who came equippied with a tent and a sleeping bag. "I don't think they will dare get rid of us."
"This is meant to finish at 10 o'clock, but we are calm," said one police officer in the square.
The prospect of confrontation with a rightwing government preoccupied with controlling protests has pushed some on the left into a trench mentality.
One indication has been the emergence of a Twitter hashtag, #HolaDictadura, or HelloDictatorship, claiming the clock of political freedoms is being turned back to the days of General Francisco Franco.
"I lived through Franco's time, so I know what the dangers are," said pensioner Julio Llorente as he visited the Ateneo exhibition. "The PP is taking us back to that sort of world."
Officially,
indignados
- whose protest last May set an example followed by "occupy" campaigners from Wall Street to St Paul's - are allowed in the Puerta del Sol for a maximum of 10 hours during the four days of planned action. But that looked unlikely to happen, with organisers hoping sheer numbers will prevent police from moving in to stop a continuous demonstration that started on Saturdayand is due to end on Tuesday.
"People will stay, that much is obvious," said charity worker José Ignacio Blasco, who spent his evenings and weekends in the Puerta del Sol last May. "Violence is what authorities want because it is what they understand, but this movement is pacifist. That is exactly what they find so difficult.
"If they want to criminalise non-violent protest, they might as well declare Gandhi and Martin Luther King to have been terrorists," he said.
The clampdown on protests comes after a year in which unemployment has risen to 24%, a return to recession and, in recent days, the nationalisation of the fourth biggest bank, Bankia. Spain is at the centre of the eurozone crisis and Rajoy's government is fixated by the threat of violent protest.
"We cannot allow fooling around with rocks or molotov cocktails to push up bond yields," said secretary of state for security Ignacio Ulloa after Spain sent 8,000 police, and spent €1m (£800,000), to protect the 22 board members of the European Central Bank when they met at a luxury Barcelona hotel earlier this month.
"Only with security will Spain get itself out of this difficult situation."
On that occasion Rajoy's government also suspended Europe's Schengen agreement so that it could reintroduce border controls to keep foreign protesters away - although there were no arrests or incidents in Barcelona.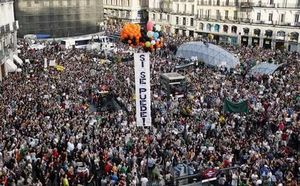 Similar fears saw a press helicopter working for
El País
newspaper, which had been given the go-ahead to record the demonstration marking the end of a 29 March general strike, ordered away by interior ministry officials in Madrid. On the same day, photographs of violent protests by a handful of radicals in Barcelona featured on the front page of the
New York Times
.Interior minister Jorge Fernández Díaz was forced to admit that some police officers appeared to have used excessive force after they pursued students and schoolchildren protesting against education cuts around the streets of Valencia in February. On that occasion, local police chief Antonio Moreno called the young protesters "the enemy".
Faced with a police crackdown, it is not clear whether Spaniards will find the enthusiasm to rekindle the spirit of last May. "The beginning was fervent and passionate, but participation has dwindled over the year," admitted Sara, a trainee teacher who joined a culture group that emerged from the Puerta del Sol demonstrations. "But it has served to awaken a whole lot of people."
In fact, hundreds of small groups - covering everything from stopping banks repossessing homes to setting up co-operatives - have kept the flame alive, often braving the cold to meet and debate in neighbourhood squares. "It was inevitable that the movement would fragment and disperse. We never wanted it to become a political party, but preferred to welcome all sorts of ideas and create something new" said Octavio, a writer from the same group. "We have kept going, meeting wherever we can. Some of our group's assemblies have been in railway stations or the metro."
Ideas have been swapped over a myriad of internet sites, Facebook pages and Twitter feeds with cyber-assemblies that continued the trademark popular open meetings of last May that saw the Puerta del Sol hailed as a new incarnation of the ancient Greek agora, or debating place.
Older protesters, many with years of activism behind them, are delighted by the new generation that has emerged. "Over the past 30 years things have been winding down," said 67-year-old Concha, a retired philosopher. "But this new generation is so much better educated and prepared than we were."
One of the classic posters conserved in the Ateneo reads: "Mum, this is what you taught me to do. Thanks!" A scrawled addition from an anonymous mother reads: "I always knew you were listening, but I am so happy to hear you say it."