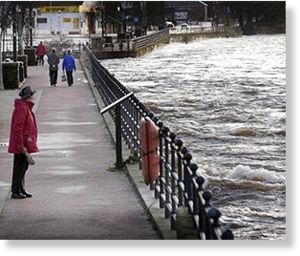 Southern England and Wales were on high flood alert Tuesday, with thousands of homes at risk from a deluge that has killed one person after Britain's wettest April in over 100 years.
Rivers were being closely monitored as flood defences held back muddy water from over 25,000 homes, the Environment Agency said. A total of 40 warnings of expected flooding and 152 alerts for possible floods were in place Tuesday.
"There is still a risk of flooding across many parts of England and Wales with particular focus on Somerset, Dorset and Devon," the agency said Monday evening, ahead of a night of thunder and heavy showers.
Forecasters the Met Office said Tuesday that heavy rain was starting to ease but "there will still be a good deal of standing water and a continued risk of localised flooding since river levels remain high".
Provisional Met Office data showed the past month has been the wettest April since records began in 1910. Figures to April 29 showed 121.8mm (4.8 inches) of rain fell on average, almost double the long-term average for April of 69.6mm.
A man and his dog were killed as they tried to cross a flooded ford in Hampshire, in southeast England, on Monday, while in Northamptonshire in central England, 1,000 holidaymakers were evacuated from a caravan park.
Despite the downpour, large parts of Britain remain officially in drought after two dry winters, with householders under instructions to save water where they can.