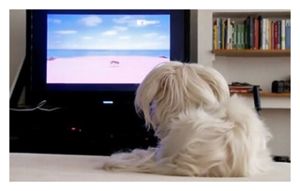 In a move that has already spawned hundreds of uses of the phrase "going to the dogs," cable channel
DogTV
plans to go national in the next several months. In case the name wasn't self-explanatory,
DogTV
is TV designed for dogs.
According to
an AP story reported
yesterday,
DogTV
comes in eight-hour blocks specifically designed to keep dogs relaxed and entertained. Filmmakers got down on their knees to shoot from a dog's perspective and producers muted colors, changed the sound (for example, high frequency noises, which irritate dogs, have been removed) and added music written for man's best friend.
The channel already has a million subscribers in the San Diego area, and its owners expect it to do well nationally. The service will run for about $5 a month.
As far as products for dogs go, that's pretty cheap. Marvel Comics-themed dog clothes sell for between
$10 and $20 apiece
on PetSmart.
This
doggy tuxedo retails in the same range. For big spenders there's the
much touted
"Collection de Bijoux" line of dog collars, whose pieces run for between $150,000 and $3.2 million.
Pet owners who currently pay for
DogTV
told reporters that they feel bad leaving their dogs alone, and are happy to have something to entertain them. The programming switches between "stimulation, relaxation and exposure" sections. One segment involves a crawling slug.
Many users swear by the program. One humane society official even said that the tapes, along with daily walks, can help keep active dogs from losing their cool.
Perhaps more importantly, this isn't the first time someone has come up with a dog themed television channel. Back in 2003,
This American Life
ran an episode centered on the would-be creator of
The Puppy Channel,
dedicated to video of puppies playing. It failed.
Animal Planet's
"Puppy Bowl,"
however, has been a rousing success.
Of course, neither of those was aimed at the dogs themselves.