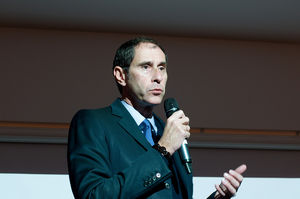 A prominent French academic, Richard Descoings, was found dead in the nude in a New York hotel room on Tuesday afternoon. New York police have opened an investigation because they believe the circumstances of his death are suspicious.
A law enforcement source told Reuters that the body of Descoings, director of the prestigious Institute of Political Studies in Paris and a member of France's Council of State, a government advisory body, was found Tuesday afternoon in his room at the Michelangelo Hotel in midtown Manhattan.
Descoings was in New York to attend a conference at Columbia University but did not show up on Tuesday morning when the conference was due to begin, the source said.
Colleagues subsequently phoned the hotel. When staff members first went to his room, they believed they heard snoring and let the matter drop.
When Descoings still did not appear at the conference, hotel staff again visited his room and this time opened the door. Inside, they found Descoings' nude body and the room in disarray. A law enforcement official told NBCNewYork.com that some of Descoing's belongings were discovered on a third-floor landing of the hotel below his 7th-floor window.
The law enforcement source told Reuters that police were treating the circumstances of Descoings' death as suspicious. While there was no indication of forced entry into his room, there were indications that alcohol had been consumed, and also indications that more than one person may have been in the room with Descoings.
In addition to alcohol, medications were found in the room, NBCNewYork.com reported, citing a law enforcement source. Descoings' wallet was missing, but his credit cards were found, the source said.
The institute that Descoings led, known in French as the Institut d'Etudes Politiques de Paris (or colloquially as "Sciences Po") is one of France's most distinguished academic institutions and widely regarded as an elite school for future high-ranking officials and politicians.
In Paris, Descoings death was called an "irreparable loss," by colleagues, Le Parisien newspaper reported.
The investigation into the death of Descoings will be the second major investigation in a year to be launched by New York police involving a major French personality.
Last year, New York police arrested the head of the International Monetary Fund, Dominique Strauss-Kahn, after a chambermaid at a Times Square area hotel accused him of sexual assault. The charges against Strauss-Kahn were later dropped.
Strauss-Kahn, who once was a potential candidate for the French presidency, is now under investigation by French authorities over alleged involvement with a prostitution ring in the northern French city of Lille.
Strauss-Kahn was once a professor at the "Sciences Po" institute.
NBCNewYork's Shimon Prokupecz as well as Reuters contributed to this report.