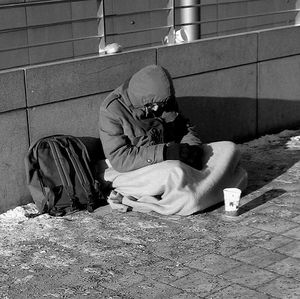 Philadelphia Mayor Michael Nutter has just announced enacted a ban on the feeding of homeless people around the Benjamin Franklin Parkway area. This includes Love Park, where outreach groups commonly offer free food to large numbers of the indigent. Nutter states that the feedings are both unsanitary and undignified, adding that "providing to those who are hungry must not be about opening the car trunk, handing out a bunch of sandwiches, and then driving off into the dark and rainy night."
Project Home's leading homeless advocate, Sister Mary Scullion, supports the measure, stating that the mayor is "between a rock and a hard place" concerning the issue of outdoor feeding. Scullion adds, "I really want to thank the mayor for this courageous... this is not an easy position. But I do think it's a great opportunity."
Though, Brian Jenkins of Chosen 300 Ministries, a homeless outreach group that does both indoor and outdoor feedings opposes the ban, and states "
the fact that city of Philadelphia is saying now that the homeless don't have the right to eat on the Ben Franklin Parkway or eat around Center City is a clear violation of civil rights. It says that people that have... can eat in a certain place. But people that have not, can't
."
Nutter's office will try to work with advocate groups to promote more indoor feedings, and for now, food can be offered on the north apron of City Hall. The ban on park feedings takes place in 30 days, and groups in violation face 2 warnings, and then a $150 fine. Also, family gatherings in the park aren't affected by the ban.
Charity measures regarding the homeless have recently been in the news regarding the Homeless Hotspots
controversy
at the SXSW Festival in Austin, TX. Marketing agency BBH labs was sending homeless people out with wifi devices, in attempts to get people to give them tips for free internet service. Some have said that this was an
affront to the dignity of the homeless
.