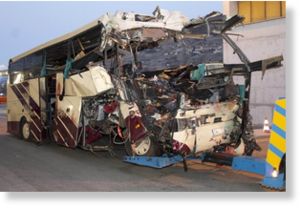 Geneva - A bus carrying Belgian students returning from a ski holiday crashed into a wall in a Swiss tunnel, killing 22 Belgian 12-year-olds and six adults, police said Wednesday.
Another 24 students were hospitalized with injuries, Valais cantonal (state) police spokesman Jean-Marie Bornet told The Associated Press.
The bus carrying 52 people, including 12-year-old students from two different Belgian schools, crashed around 9 p.m. local time Tuesday inside a tunnel on the A9 highway near Sierre, Switzerland, in the southern Swiss canton (state) of Valais, an area of popular ski resorts in the Swiss Alps.
Authorities were still identifying all the victims, said Didier Reynders, the Belgian foreign minister.
"It is incomprehensible. There were three buses and only one was in (an) accident without any contact with another vehicle," Reynders said.
Belgian Prime Minister Elio Di Rupo said this is "an extremely sad day for all of Belgium."
Di Rupo is flying together with the families of the victims to Switzerland on Wednesday, the government said.
Police said the students had spent the last few days at a ski camp and were on their way back to the Belgian provinces of Brabant, Flanders and Limbourg.
The bus veered and hit a curb, then rammed into a concrete wall in the tunnel, according to police. The front of the bus was heavily damaged and blocked people from getting out. The cause of the crash has not been determined.
"The bus hit the barrier stones on the right side of the road. It then hit the tunnel wall front-on in an emergency stop space," police said in a statement. "Because of the strong impact the bus was badly damaged and several passengers were trapped in the wreckage."
Several had to be freed by rescuers.
The highway was closed in both directions to aid in the rescue. Some eight helicopters and a dozen ambulances took victims to hospitals. Dozens of firefighters and police, 15 doctors and three psychologists were called to the scene.
A government spokesman said a crisis center has been set up and an emergency number provided for families.
Police said the victims were all thought to be Belgians living in Flanders. Belgian media reported that the children were from two towns, Lommel, east of Antwerp, and Heverlee, near Leuven.
The Alpine city of Sierre, capital of canton Valais, is a gateway to the Val d'Anniviers tourist region and is connected to the popular Crans-Montana ski resort by funicular railway.