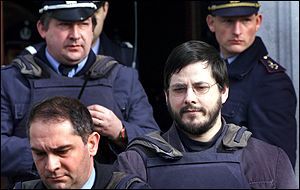 A Belgian television station has broadcast a clandestine interview with the paedophile murder suspect, Marc Dutroux, who is awaiting trial on charges of abducting, raping and killing four girls.
Dutroux was arrested in 1996 in a case which rocked the nation. Two of the children who he abducted starved to death in makeshift dungeons under his house.
In the interview with the Flemish-language station VTM Dutroux admitted locking up the girls but did not acknowledge responsibility for their deaths.
He also said he had been part of a wider paedophile network but said the justice system did not want to pursue it.
"There is a well-grounded [paedophile] ring," he said. "I maintained regular contact with people in this ring. However, the law does not want to investigate this lead."
Dutroux has already served time for a paedophile conviction. He was set free in 1992 after serving three years of a 13-year sentence for raping five girls.
Admission
Dutroux freely admitted the abduction of teenagers An Marchal and Eefje Lambrecks, and eight-year-olds Julie Lejeune and Melissa Russo, although it was not clear whether he was aware that he was speaking to a journalist.
"I kept Julie and Melissa captive at my place, so I'm not innocent. I kept An and Eefje captive at my place, so I'm not innocent. I'm absolutely guilty," Dutroux said.
But he has always maintained that he did not murder the girls. He accuses his second wife, Michelle Martin, of failing to feed Julie and Melissa.
Dutroux's trial is due to start next year. It has been delayed several times as a result of the extensive investigation into the girls' deaths.
This has included forensic tests on some 6,000 hair samples taken from Dutroux's basement to try and establish whether the girls had any other visitors.
Conspiracy theories
But the BBC's Shirin Wheeler in Brussels says the interview is bound to fuel theories that the delay in bringing Dutroux to trial is because of a
cover-up by members of the Belgian establishment
allegedly
linked to paedophile activities
.
The parents of two of the young victims - An Marchal and Melissa Russo - say they are deeply unhappy Dutroux has been interviewed.
The reporter who interviewed him was smuggled into his cell by a visiting senator, Jean-Marie Dedecker.
Liberal Senator Dedecker is now facing disciplinary action by his party for allowing the journalist to pass himself off as his driver.