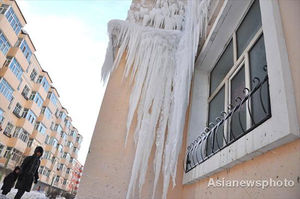 A month-long cold front has persisted in north China's Inner Mongolia autonomous region and caused havoc for more than 40,000 people, said local authorities Tuesday.
Over 1,600 heads of livestock were killed and cracks appeared on walls in over 8,000 homes due to the freezing weather in the city of Hulunbuir, located in the region's northeast, according to a spokesman with the regional civil affairs department.
The extreme weather has inflicted direct economic losses and apartment renovation costs of 13 million yuan (2.1 million U.S. dollars), said the spokesman, adding that no casualties have been reported.
The cold front began to plague Hulunbuir in late December last year and has tightened its grip on the area since the Chinese Lunar New Year holiday in late January.
Chenbaerhu Banner, administered by Hulunbuir, registered the lowest temperature to date this winter in Inner Mongolia, 51.9 minus degrees Celsius, said the spokesman.
In addition, five banners and cities administered by Hulunbuir have seen their new record low temperatures during the past month and a half, compared with the same period of previous years, he said.
The regional weather authorities have forecast the region will soon experience a new temperature drop of eight to 10 degrees Celsius.
Nationwide, a cold front has swept across the country since Sunday, and the cold weather is expected to persist in the country's central and eastern areas, according to a statement from the National Meteorological Center.
By Tuesday, the Ministry of Civil Affairs and the Ministry of Finance had jointly distributed 6.3 billion yuan in winter relief funds to provide food and clothing for people in weather-stricken areas.