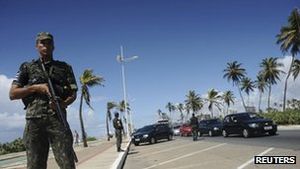 The Brazilian government has deployed the army in the northeastern state of Bahia where a police strike has sparked a wave of violence.
Official figures suggest the murder rate has more than doubled in the state capital, Salvador, since police stopped work there on Tuesday.
The number of assaults and thefts has also risen compared to previous weeks.
Salvador, Brazil's third largest city, is one of the venues for the football World Cup in 2014.
Bahia Governor Jaques Wagner said the strike was illegal and accused some of the officers of violent tactics.
"A group of police using reprehensible methods, spreading fear among the population, caused disturbances in some parts of the state," Mr Wagner said.
The officers are demanding a 50% wage increase and better working conditions.
Soaring crime
According to the Bahia public security ministry, the murder rate in the state capital Salvador rose by 129%.
The ministry said 78 people were killed since the start of the strike on 31 of January, compared to 34 in the same time period the previous week.
Bahia state officials said one of the strike leaders was arrested on Sunday on suspicion of stealing public funds.
The officials said the arrest was related to the seizure by striking officers of more than a dozen police vehicles.
Arrest warrants have been issued for another 11 strike leaders.
Sixteen of the seized vehicles have now been recovered by the army.
The spike in violence comes as Salvador prepares for Carnival celebrations which are attended by tens of thousands of tourists every year.