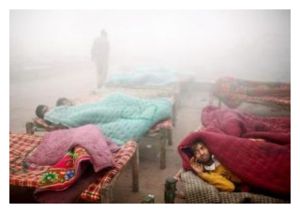 New Delhi: The entire north India shivered on Monday as 11 more people succumbed to the cold sweeping the region pushing the death toll to 39. Dense fog and dipping temperatures threw normal life out of gear at several places as nine deaths occurred in Punjab and two in Uttar Pradesh since last evening.
The death count from the harsh weather has risen to 30 in Uttar Pradesh where Fatehgarh with a minimum temperature of 3.9 degrees was the coldest place in the state. The national capital woke up to a thick blanket of fog which reduced the visibility to almost zero in some areas and disrupted rail and air traffic.
Dense fog also hit rail services in the region with over 40 trains running behind schedule, a railway spokesperson said.
Cold conditions prevailed in Kashmir with the minimum temperatures dropping several degrees below freezing point as the weather department forecast light to moderate snowfall at many places. Sub-zero night temperatures have resulted in freezing of water supply lines in many areas. Mercury in the skiing resort of Gulmarg in north Kashmir plummeted to a minimum of minus 6.8 degrees Celsius.
Srinagar, the summer capital of Jammu and Kashmir, reeled at minus 3.4 degrees Celsius.
The tourist resort of Pahalgam recorded a low of minus 5.4 degrees Celsius.
In Leh district, the mercury dipped to a low of minus 13 degrees Celsius.
The adjoining Kargil district in the Ladakh region registered a minimum of minus 12 degrees Celsius, the MeT office said.
Cold conditions intensified in Punjab and Haryana with mercury moving up to seven degrees Celsius below normal in some parts of the two states. Hisar was coldest place in Haryana with a low of 0.1 degrees Celsius, seven notches below normal.
The minimum in Ludhiana settled at 0.8 degrees Celsius, six notches below normal, while Amritsar recorded a low of 1.3 degrees Celsius, three notches below normal.
Owing to low visibility most of the trains, including those bound for Pathankot and Amritsar, ran late.Rajasthan also reeled under cold and foggy conditions with Sriganganagar recording a minimum temperature of 3.8 degree Celsius followed by Churu (4 degrees Celsius).