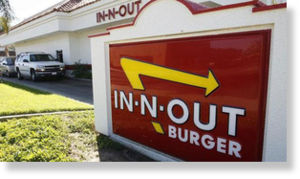 Pinole Police Department is forced to send burger-lovers home after shooting.
Would you wait in line just feet away from where a shooting took place to eat a burger?
Apparently some people in Pinole will if its an In-N-Out Burger.
On Monday evening at 5 a man in his 20s
reportedly shot another man
in his 20s just outside the In-N-Out Burger driver thru in Pinole.
The shooter ran away and was not caught but the victim suffered injuries serious enough that he had to be airlifted to a regional trauma center and is in critical condition.
All the while, burger-lovers waited for their food shortly after the shooting took place.
It wasn't until 7:15 p.m. that officers officially closed the restaurant to investigate the shooting that patrons abandoned the drive thru window.
Police said cars continued to go through the drive thru, around the scene of the shooting, until it they shut it down.
Officers were still looking for the shooter Monday evening, according to police reports.