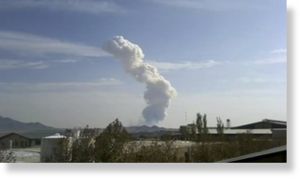 From
Time
:
Israeli newspapers on Sunday were thick with innuendo, the front pages of the three largest dailies dominated by variations on the headline "Mysterious Explosion in Iranian Missile Base." Turn the page, and the mystery is answered with a wink. "Who Is Responsible for Attacks on the Iranian Army?" asks
Maariv
, and the paper lists without further comment a half-dozen other violent setbacks to Iran's nuclear and military nexus. For Israeli readers, the coy implication is that their own government was behind Saturday's massive blast just outside Tehran. It is an assumption a Western intelligence source insists is correct: the Mossad - the Israeli agency charged with covert operations - did it. "Don't believe the Iranians that it was an accident," the official tells
TIME
, adding that other sabotage is being planned to impede the Iranian ability to develop and deliver a nuclear weapon. "There are more bullets in the magazine," the official says.
The powerful blast or series of blasts - reports described an initial explosion followed by a much larger one - devastated a missile base in the gritty urban sprawl to the west of the Iranian capital. The base housed Shahab missiles, which, at their longest range, can reach Israel. Last week's report from the International Atomic Energy Agency (IAEA) said Iran had experimented with removing the conventional warhead on the Shahab-3 and replacing it with one that would hold a nuclear device. Iran says the explosion was an accident that came while troops were transferring ammunition out of the depot "toward the appropriate site."
[I]n Sunday's editions, the Hebrew press coyly listed what
Yedioth Ahronoth
called "Iran's Mysterious Mishaps." The tallies ran from the November 2007 explosion at a missile base south of Tehran to the October 2010 blast at a Shahab facility in southwestern Iran, to the assassinations of three Iranian scientists working in the nuclear program - two last year and one in July.
At the very least, the list burnishes the mystique of the Mossad, Israel's overseas spy agency. Whatever the case-by-case reality, the popular notion that, through the Mossad, Israel knows everything and can reach anywhere is one of the most valuable assets available to a state whose entire doctrine of defense can be summed up in the word deterrence. But it doesn't mean Israel is the only country with a foreign intelligence operation inside Iran. The most recent IAEA report included intelligence from 10 governments on details of the Iranian nuclear effort. And in previous interviews, Western security sources have indicated that U.S. and other Western intelligence agencies have partnered with Israel on covert operations inside Iran. Sometimes the partner brings specific expertise or access. In other cases, Iranian agents on the ground who might harbor misgivings about Israel are allowed to believe they are working only with another government altogether.
Saturday's blast was so powerful it was felt 25 miles away in Tehran, and so loud that one nearby resident with combat experience thought he had just heard the detonation of an aerial bomb. "Frankly it did not sound like an arms depot from where I was because when one of those goes off, it is multiple explosions over minutes, even hours depending on the size of the facility," the resident says. "All I heard was one big boom. I was sure from the quality of the noise that anyone in its immediate vicinity was dead. Something definitely happened, but I would not trust the [Revolutionary] Guards to be absolutely forthcoming as to what it was."
The list of Iranian "accidents" over the past few years includes:
November 2007 - Explosion in a missile base south of Tehran. Dozens of technicians are killed.
July 2008 - Explosion in a convoy of trucks carrying missiles probably intended for Hezbollah. 15 deaths.
August 2009 - a passenger plane crashes after takeoff from Tehran. On board were probably explosives and rockets destined for Hezbollah. 168 dead.
October 2010 - Explosion of the Revolutionary Guard base in south-western Iran where Shahab missiles are stored. 18 dead.
June 2011 - aircraft carrying Russian scientists who assisted in building the Bushehr reactor crashes. Dozens killed, including six scientists.
November 2011 - Explosion at the base of the Revolutionary Guards missile. 17 killed.
And from
AP
:
A Revolutionary Guard commander killed in an explosion at an ammunition depot west of Tehran was a key figure in Iran's missile program, the elite military force said in a statement Sunday.

Gen. Hasan Moghaddam was killed together with 16 other Guard members Saturday at a military site outside Bidganeh village, 25 miles (40 kilometers) southwest of Tehran.

Saeed Qasemi, a Guard commander, said Iran owes its missile program to Moghaddam.

"A major part of (our) progress in the field of missile capability and artillery was due to round-the-clock efforts by martyr Moghaddam," Qasemi told the conservative news website rajanews.com.

Another Guard commander, Gen. Mostafa Izadi, called Moghaddam a "founder of the Guard's surface-to-surface missile systems."

Qasemi said Moghaddam was one of a few Guard commanders favored by Iran's Supreme Leader Ayatollah Ali Khamenei.

"The exalted leader had a special interest in him," he said.
Mako
says that Moghaddam had worked closely with Mahmoud al-Mabhouh, the senior Hamas member assassinated in Dubai nearly two years ago.
Defense Minister Ehud Barak, when asked to comment on the explosion, answered with the Hebrew phrase "כן ירבו" which translates roughly to "May there be many more."