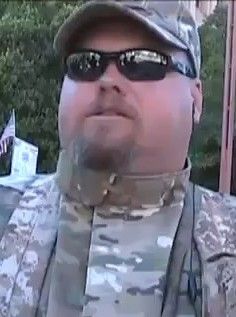 Armed citizen militia group US Border Guard is making its presence felt at the Occupy Phoenix demonstration to protect free speech rights, arguing that the second amendment prevents the state from abusing the first amendment.
The group has been labeled "neo-nazis" by the Southern Poverty Law Center, which is usually a demonization tactic, but the individual shown in the clip, "JT Ready"
has attended
neo-nazi rallies and is closely affiliated with the fringe National Socialist Party.
The group has also operated as a "Minutemen on steroids" outfit, organizing armed patrols of the US border with Mexico.
As we have previously highlighted, the fringe neo-nazi movement has been completely infiltrated by the FBI, right down to the level where an
FBI informant actually got caught organizing a neo-nazi rally in Orlando
back in 2007.
Is this a means of infiltrating the 'Occupy' movement, a minority fringe extremist group trying to attach itself to the protesters, or merely concerned citizens expressing their right to bear arms peaceably?
Opinions will undoubtedly be split, but one certainty is the fact that the
establishment media instantly seized upon groups like this attaching themselves to the Tea Party rallies as a smear tactic to claim the whole movement was racist and violent. However, in the case of 'Occupy', the mainstream networks have largely ignored making such connections.