According to worldwide observers reporting to the International Meteor Organization, there was indeed an outburst of Draconid meteors on October 8th.
Preliminary counts
suggest a peak rate of 660 meteors per hour at 2010 UT (4:10 pm EDT).
Most Draconids in the outburst were faint, but not all. Göran Fredriksson photographed this fireball splitting the evening twilight over Örnsköldsvik, Sweden: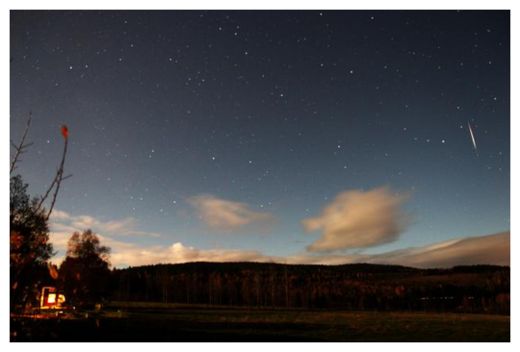 The meteor rate and overall faintness of the display was in good accord with predictions by leading forecasters such as Jeremie Vaubaillon of the Institute for Celestial Mechanics in France and analysts at NASA's Meteoroid Environment Office.
More Images:
From
Jesper Grønne
of Silkeborg Denmark; from
Runar Sandnes
of Reed, Norway; from
Frank Martin Ingilæ
of Tana, Finnmark, Norway; from
Ronny Tertnes
of Bergem, Norway; from
Richard Klofac
of Czech Republic, Zlechov; from
Thomas Hagen
of Oslo, Norway; from
Adrian West
of West Berkshire United Kingdom; from
Pete Glastonbury
of Devizes, Wiltshire, UK; from
Jaromír Němec
of Davle, Czech Republic