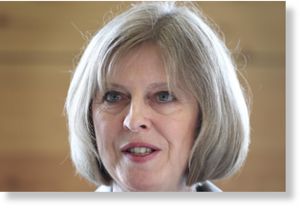 Britain's Home Secretary Theresa May says she would like to see an end to the Human Rights Act in comments that threaten to trigger a row within the coalition government.
"I'd personally like to see the Human Rights Act go because I think we have had some problems with it," she told the Sunday
Telegraph
.
The Human Rights Act is the piece of regulation that integrates the European Convention on Human Rights into British law; May claims that it prevents the Ministry from easily dealing with what she called foreign criminals and suspects of terrorism.
May's remarks risk dividing the coalition as Deputy Prime Minister Nick Clegg pledged during the Liberal Democrat party conference last month that they will not allow any major changes in the Act.
"Let me say something really clear about the Human Rights Act. In fact I'll do it in words of one syllable: It is here to stay," he said.
However, May said the piece of law has become problematic for her ministry, as they are "unable to deport people who perhaps are terrorist suspects."
She did not explain how regulations on human rights hamper their work or whether the ministry's job is in breach of human rights regulations.
The coalition has already formed a commission of human rights experts who will report to Clegg and Justice Secretary Ken Clarke the possibility of introducing a British Bill of Rights to replace the act.
Clarke, who is a Tory member of the cabinet, has dismissed any key changes in the law.
"There isn't the faintest chance of the present Government withdrawing from the Convention on Human Rights," he said last month.
Meanwhile, Liberal Democrat Energy Secretary Chris Huhne has vowed to give Conservatives a hard time in the coalition if they tamper with the Human Rights Act.
"If Conservative backbenchers persist in wanting to tear up the European Convention on Human Rights, then I can foresee a time when this party would be extremely uncomfortable in Coalition," he said.
Yet May is insisting that they are "not standing still on this issue."
The Home Office considers the Article 8 of the European Convention on the right to a "family life" as particularly problematic.
Other points of contention between the EU and the British government are cooperation with the European prosecutors on extraditing criminals who have committed offenses in other countries but live in Britain as well as the EU demands that London recognizes foreign nationals' full right to claim benefits.