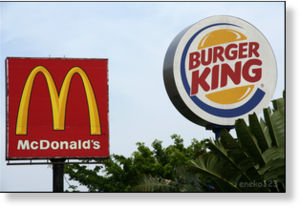 One woman sickened by fumes, another hit by her own SUV
Two Florida women died yesterday in weird but unrelated deaths at fast food establishments. The more serious incident occurred Wednesday when fumes filled a south Georgia McDonald's. Firefighters found two people passed out in the bathroom, and several others struggling to breathe, the
AP reports
. Eventually 10 were taken to the hospital - including an 80-year-old woman from Florida who died early yesterday. Authorities expect cleaning chemicals were to blame, but the case is under investigation.
The other incident occurred at Burger King headquarters in Miami, where a woman managed to run herself over with her own SUV last night. The woman was pulling out of her parking spot when she hit a neighboring vehicle, according to the
Miami Herald
. She got out to inspect the damage, but left the vehicle in reverse. She fell and the SUV hit her and kept on rolling, eventually hitting two other parked cars. She died in the parking garage.