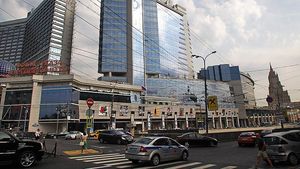 BP's troubled relationship with Russia sank to a new low yesterday after special forces raided its Moscow office and its partners in a joint venture escalated their campaign against the company.
The raid came a day after BP suffered the humiliation of being usurped by ExxonMobil in a landmark alliance with the Kremlin-controlled Rosneft, a deal that BP had claimed as its own.
Police armed with assault rifles searched for documents relating to the dispute between BP and a minority shareholder in its Russian joint venture TNK-BP.
The shareholder, Andrei Prokhorov, claims that BP harmed TNK-BP's interests by failing to include the joint venture in its proposed alliance with Rosneft and is seeking $US3 billion in damages as a result.
Jeremy Huck, the head of BP in Russia, condemned the raid by about 20 people as illegal and an attempt to put "pressure on BP's operations" in the country.
Work at the office had been "paralysed" and he had been told that enforcement agents could remain in the building for the rest of the week.
Dmitry Chepurenko, a lawyer representing Mr Prokhorov, said that the Russian court had ordered in the special forces after BP allegedly failed to provide documents relating to its mooted alliance with Rosneft, Russia's biggest oil company.
Some insiders suggested that Mr Prokhorov was being directed by AAR, which represents the four Russian oligarchs who own half of TNK-BP and who are waging their own legal campaign against BP.
The court and judge who ordered the Moscow raid are thought to have also sanctioned similar raids against BP offices in 2008.
A bitter struggle between AAR and BP for control of the joint venture resulted in Bob Dudley - then TNK-BP's chief executive and the present chief executive of the British company - fleeing Russia in 2008.
Referring to the raid and the dispute with AAR, Peter Hutton, from RBC Capital Markets, said: "Experience in Russia suggests that all things are connected.
"Raiding BP's office in Moscow marks an escalation of the situation. It certainly has the potential to be 2008 all over again for BP."
The oligarchs tried to distance themselves from the raid.
An AAR representative said: "We regret that this happened as it was unnecessary for a company of BP's stature."
AAR is stepping up its legal campaign against BP, which, if successful, could leave the company liable for up to $US10bn of damages.
Lawyers acting for the Russian oligarchs have requested that a London tribunal meet next month to deliver a ruling on whether BP violated the TNK-BP shareholder agreement by excluding the joint venture from its proposed alliance with Rosneft.
The tribunal forced BP to walk away from the Rosneft alliance this year.
BP has filed a counter-claim with the tribunal, claiming that one of the oligarchs also broke the shareholder agreement.
Mr Hutton said that the Russian oligarchs were pursuing the legal action to try to force BP either to sell its stake in TNK-BP or buy them out.
AAR was close to selling out to BP and Rosneft in May but the three sides could not agree on a deal.
Exxon Mobil stole a march on BP on Tuesday by signing a strategic agreement with Rosneft in front of Vladimir Putin, the Prime Minister, and Igor Sechin, Russia's powerful Energy Minister.
Mr Sechin, a former Rosneft chairman, described the deal as "significantly better" than the one reached with BP.