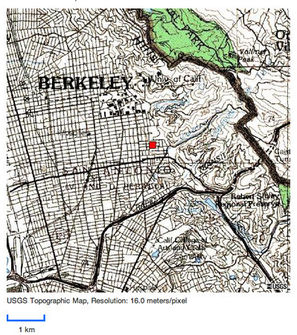 Many people in the Bay Area were jolted awake at 3:51 a.m. this morning, July 16, by a minor earthquake centered in Berkeley.
A 3.3-magnitude earthquake hit the East Bay at 3:51 a.m. today, Saturday. No injuries or damage have been reported.
The
U.S. Geological Survey
map places the epicenter just west of UC Berkeley's Clark Kerr Campus. The quake had a depth of 4 miles, according to the USGS.
The tremor jolted some folks awake in El Cerrito, Kensington and farther away, in the North Bay, San Francisco, Daly City, Concord, San Ramon, Walnut Creek and several other cities.
Even though it is classified as "weak" quake by the USGS, one person 482 miles away in Ventura reported feeling it on the USGS public feed-back web page - "
Did You Feel It? - Tell Us!
" The web page had received 60 responses as of 1:20 p.m. today.
"We were awakened from deep sleep," said John Rowe, who lives Berkeley at the border with Kensington. "Hearts were pounding and my cockatiel was flapping around in his cage. We're right at Kensington's Colusa Circle. It was quick, but felt more like a 'rumbling' quake to us."
In a 4:28 a.m. email today to El Cerrito Patch, Lisa Johnston wrote, "We forget we still are near a fault line here in fabulous El Cerrito. Ugh... now if I could only get back to sleep."
South Berkeley resident Jenny Strauss said she was woken up by the earthquake, which felt like a sideways jolt that moved in a north-south direction. The quake "felt like a truck hitting the house," Strauss commented on the
Berkeley Patch Facebook page
.
Did you feel it?