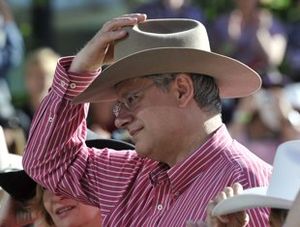 Get ready for some more labour unrest in Canada.
Canada's largest public sector union, the Public Service Alliance of Canada, is vowing to initiate a major offensive against any plans to radically reduce its membership.
President John Gordon says his union, which represents about 172,000 federal employees, won't start a general strike but will be actively be campaigning against the Tories and any potential job cuts.
Stephen Harper's government has made it "very clear" its plan to find $4 billion in annual savings to balance the federal budget will mean some programs will be eliminated or scaled back, Gordon told
Bloomberg New
s.
Harper's decision last month to use back-to-work legislation to end stoppages at Air Canada and Canada Post also suggests the Conservatives will be "taking on" public-sector unions, he said.
Gordon and his union are fighting back.
In lieu of striking, it's launched a more "strategic" initiative which includes
public relations drive
with an email blitz to Harper and treasury board president Tony Clement.
In the coming months, the union will also organize its members to engage workers in their communities by calling attention to potential service cuts.
"PSAC members work and deliver services to communities all across Canada. We want to make sure everyone knows when you say this program is going to go, what that means, what that service is," Gordon told
CBC's Power and Politics
.
"If Canadians value a service that's just been cut - our job as a union is to show them what it means when that service is gone."
When Finance Minister Jim Flaherty announced the $4 billion in program cuts in June he
suggested
it wasn't a "big deal."
It may not be as easy as he thinks.