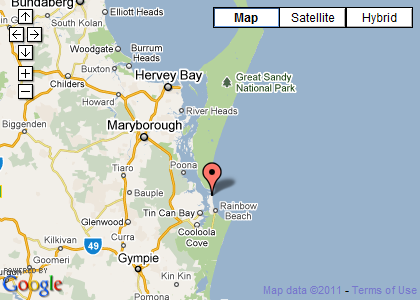 A sinkhole up to 100m long and 50m deep has opened up on a south-east Queensland beach.
The hole appeared at Inskip Point, Rainbow Beach, on Saturday night and continued to grow yesterday. It is estimated to be up to 50m deep.
Hervey Bay man Ron Morgan told the
Fraser Coast Chronicle
he could only watch in shock as a small hole turned into a gaping chasm 30 metres wide and kept on growing.
"The beach is just falling, it's disappearing into a giant hole," he told the
Chronicle
yesterday.
"You can't see the bottom. It's like a deep crevasse, and it is growing all the time.
"It's all the way up to the tree line and I just saw two trees fall in.
"The whole beach is disappearing."
Greg Haring, manager of Adventure Centre 4WD Hire at Rainbow Beach, said he had seen footage of the hole taken by customers and was taken aback.
"It is a sizeable hole that's opened up on the beach. It's about 100m long. Some of the trees are collapsing into it," Mr Haring said.
Mr Haring said while sinkholes appeared in the area occasionally, it was by far the largest he had ever seen.
"They get sinkholes on a semi-regular basis but I haven't experienced one that far south," he said.
"They certainly do occur from time to time. Usually they're about 5 or 10m long, nothing of this size."
Police Acting Sergeant Gavin Cummings said sinkholes were not uncommon at Inskip Point.
"It's something that has happened before," he said.
"We were called there, because a lot of people were gathering very close to the sand cliffs. The cliffs would be about two metres high, but I'm sure the sink hole is deeper."
Sergeant Cummings said it was fortunate no-one was driving on the popular four-wheel-drive beach route at the time.
"We're lucky we didn't have anyone out there," he said.