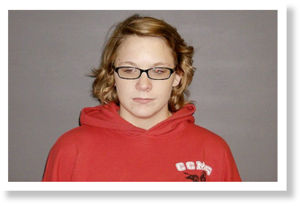 A teenager in North Carolina gave birth to a beautiful baby girl last Friday, then brutally stabbed her to death, authorities said.
The 16-year-old is now facing first-degree murder charges and is in the custody of the Currituck County Sheriff's Office.
Police say Rebecca Blackmore, a sophomore at Currituck County High School, went to the emergency room at Chesapeake General Hospital to report she'd given birth to a baby.
The Knotts Island teen told hospital workers the baby was dead and she left it in her bedroom closet, authorities said.
Sheriff deputies retrieved the dead child from the home and brought her body to the medical examiner. It was later determined the baby was alive at birth, but died as the result of multiple stab wounds,
WVEC 13 News reported Wednesday.
Blackmore was known to be dating fellow Currituck County High School student Michael Derosier, WVEC 13 reported. He has not been charged in connection to the crime.
It is unclear if the girl's family was aware she was pregnant,
WTKR 3 News reported.
North Carolina's Safe Haven Law could have protected Blackmore if she had decided to give up the baby. The law allows anyone who has given birth to drop off their newborn within seven days at a hospital and face no criminal charges.