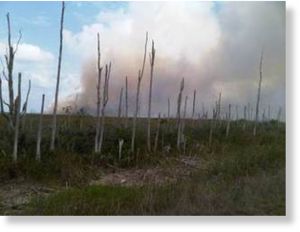 West Miami-Dade brush fire consumes over 50,000 acres
The brush fire battle in West Miami-Dade isn't getting any easier for firefighters as it continues to burn Friday morning.
The fire has now consumed more than 50,000 acres and is about 55 percent contained, according to the Florida Division of Forestry.
On Thursday, firefighters evacuated homes in the Miccosukee Tiger Trail complex after the fire came as close as 40 feet to the homes. Miami Dade Fire Rescue along with The Florida Division of Forestry teamed up to knock down the flames
"We knew that we couldn't stop it," said Scott Peterich with the Division of Forestry. "So, Miami Dade Fire Rescue and us decided to go ahead and do this counter fire. We created a back fire, and now we have a black area making it safe for the structures."
Officials say the area near the homes is secure and the residents are no longer in danger. Fire rescue and Division of Forestry workers remain at the scene, and Krome Avenue between Tamiami Trail and Okeechobee Road remained closed Friday due to poor visibility from smoke.
It's unknown how the fire, which has been burning since Sunday, began. It's possible it may have been sparked by an ATV, officials said.