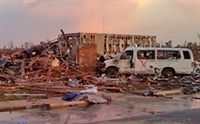 At least 10 nursing home residents and one employee were killed in a Sunday tornado that hit Joplin, MO. The storm killed at least 117 people, and may have caused up to $3 billion in insured losses to 10,000 buildings, according to a preliminary estimate released Tuesday by Eqecat Inc.
Greenbriar Nursing Home, one of six skilled nursing facilities citywide, was directly in the tornado's path. A Los Angeles Times report describes a horrific scene at Greenbriar, where 10 nursing home staffers tried to protect 85 residents in the building's central hallway. One employee said several people were pulled through the roof by high winds that also tore off the building's roof. He told the paper that he could see cars being tossed around in the air above the building.
Jon Dolan, executive director of the Missouri Health Care Association, visited Joplin Monday to survey the damage at five AHCA-member facilities, including Greenbriar. One Greenbriar resident remained unaccounted for on Tuesday evening.
"Greenbriar was absolute devastation like I've never seen before, even when I was in my Army Service," Dolan told McKnight's.
Two additional Joplin nursing facilities sustained significant damage and are not habitable, although no one was killed. Dolan said residents in these facilities have been moved to nearby facilities.
Dolan said it is a miracle that more people did not die. He said Joplin's first responders and individual nursing home operators who executed emergency evacuation plans saved many lives.
While other parts of Joplin were wiped out, Spring River Christian Village, a CCRC, has remained fully operational, with a 120-bed skilled nursing department.
Spring Village executive director Rick Keller told McKnight's that because the facility was not directly affected by the storm, it's been aiding Joplin's other nursing homes. Assistance includes taking in residents, and helping one facility with laundry services. The Red Cross has also brought in other Joplin-area senior citizens who were left homeless because of the storm.
Keller took in four new residents Monday morning and was expecting six more as of Tuesday afternoon.
"Of our staff of 205, at least 10 employees completely lost their homes and belongings, or they had major damage to their homes. It's been heart wrenching," Keller said.
Fortunately, the facility has a strong chaplaincy program, which Keller says will help support the staff and residents. Many of the residents also have family members who were affected by the storm.
"We have one chaplain on staff, and eight chaplain students that are really going to help us out if we need extra support," Keller said.
Dolan says AHCA executives from Florida, California and Alabama have already lent financial assistance.
Fundraising efforts
are underway to provide help for employees of Joplin's nursing homes. In addition to staff that lost their houses, there will be financial hardship due to loss of income, he said.
"What gets to me is the fact that for every great caregiver who saved a life, or helped a resident evacuate safely, they might not have a home or family member to go back to," Dolan said. "But we take care of our own. It's important to get the word out that we have highly motivated employees and operators. We are very, very lucky that we can rebuild."