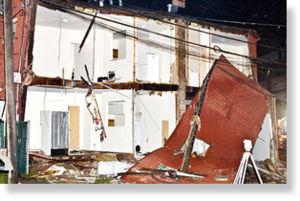 A stunning explosion that blew the facade off a Staten Island house Tuesday was caused by two homeless people breaking a gas line while scrounging for pipe, authorities said Thursday.
Michael Reyes, 24, told cops he'd been ripping metal pipes out of the walls of a vacant apartment in Mariners Harbor early Tuesday when he accidentally removed a gas line connecting the building's furnace and hot water heater.
As the apartment filled with gas, Reyes left, but returned 40 minutes later with 28-year-old Dominique Robinson, Staten Island prosecutors said.
When she lit a cigarette, the gas ignited, causing an explosion that tore off an entire side of the three-story building.
"Me and this girl went into this building to take some pipe," Reyes admitted, according to a criminal complaint. "Once I hit the pipe, the boiler exploded."
Both suffered minor injuries - Reyes to his face and Robinson to her hands - and fled, authorities said.
Amazingly, none of the building's residents were hurt.
Cops caught up to Reyes when he blabbed to his estranged girlfriend and she called police.
Reyes was also wanted on charges of burglarizing the girlfriend's apartment nearly two weeks ago, prosecutors said.
Reyes is charged with burglary, criminal mischief and attempted petit larceny. Robinson was charged with criminal trespass.
Prosecutors were unable to file arson charges because legal statutes require that a fire be intentionally set for an arson charge to apply.