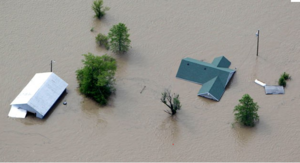 Vicksburg, Mississippi - The temporary walls erected at Vicksburg to hold back floodwaters were under fresh strain on Sunday as Mississippi River water levels set new records.
One day after officials opened a floodway downriver to speed the flow through the lower Mississippi Valley and spare two of Louisiana's largest cities, the water at Vicksburg hit 56.48 feet on Sunday, more than an inch above the record 56.2 feet set in 1927, according to the U.S. Army Corps of Engineers.
Experts say the river will rise another foot still in Vicksburg before May 19, when it is expected to crest at 57.5 feet -- 14.5 feet above flood level.
The atmosphere in Vicksburg on Sunday remained remarkably calm with the police station closed, although the 911 emergency dispatch line remained open.
The Mississippi, swollen by a rainy spring and melt from an especially snowy winter, continues to rise as it moves south.
Up to 5,000 Mississippi residents have evacuated or will evacuate as the flooding spreads.
J'Wan Casey, 37, of Jackson, Mississippi lived in Vicksburg when he was young and returned to survey the damage. He found his grandfather's old home among those claimed by the flood.
"I can remember going over to my grandfathers house when I was a kid and helping him out with chores on the weekend," he said. "Now it's completely under water."
A generator was pumping water out of the downtown area, but the temporary walls erected nearby to keep the Mississippi out appeared to be leaking. Water was spewing through cracks where the flood walls and temporary walls meet, forming pools on one of the roads the walls were designed to protect.
Displaced residents have taken shelter at a local church.
Vicksburg resident Derrick Roberts, 29, has been lucky so far, with the floodwaters about five yards from his backyard.
"It makes you step back and look at life," he said, "to be able to see your neighbors' houses under water like that."
The 2011 flood continues to challenge or break records set during the floods of 1927 and 1937. Since the 1927 flood, which killed as many as 1,000 people, improvements have been made in flood control with dams, levees, reservoirs and floodways.
The Bonnet Carre spillway was opened last week, and the Corps blew up part of the Birds Point levee in Missouri earlier this month, flooding farmland to save towns in Kentucky and Illinois.
With the opening of the Morganza Spillway on Saturday, it is the first time that three of the river's floodways have been opened at the same time.
(Writing by James B. Kelleher, editing by Ellen Wulfhorst)