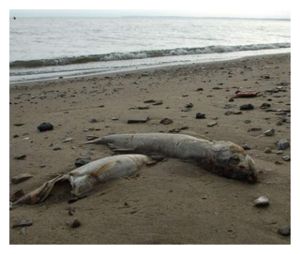 Port Clinton -- As anglers from more than a dozen states are trying to figure out how to catch the largest walleye this week, Ohio Department of Natural Resources biologists will be trying to figure out what killed thousands of others recently.
"I'm hearing thousands or
tens of thousands
maybe, on the high side," said biologist and ODNR Lake Erie Program Administrator Roger Knight. "
This is something out of the ordinary
."
According to Knight, there are several possible causes.
The natural cause could be the unpredictable weather during the last six weeks or so, which extended the walleye spawning period. That, Knight said, likely exhausted a large portion of the population, especially males, which tend to stay in the shallow, crowded spawning beds longer than females.
"When they finish spawning," he said, "they've expended a lot of energy."
The weak, malnourished and exhausted fish then become susceptible to natural diseases and, as a result, can die in large numbers.
The numbers are large enough that walleye anglers are talking about it -- and they're not happy.
"You see them all over," Rich Mealer, a pro angler from Columbus, said this week.
Mealer said he's been scouting for the 2011 National Guard FLW Walleye Tour tournament since last week, and
he's seen a lot of nice-looking walleye -- dead
.
"They're all about the same size, about 2 1/2- to three-pound fish," Mealer said. "Yesterday I fished off Starve Island and they were out there. I saw about 15."
Mealer said his first thought regarding a cause was commercial fishermen in Canada, but he dismissed the possibility.
"Those would be considered prime grade A number one walleye, so they wouldn't throw them out," he said. "You rarely see them like that."
Other tournament anglers believe Canadian fishermen, who often use gill nets to harvest walleye, could be responsible for the kill. Once fish are caught in gill nets, they die. If they are not pulled from the water soon enough, they begin to decay, making them unmarketable. Those fish often are dumped from nets.
Knight agreed Canadian gill nets could be the culprit, but said it's too early to know.
"If the guys are not tending their nets due to weather," he said, "that could be something."
Minnesota angler Scott Steil said he's seen plenty of dead fish while scouting, and they seem to be coming from the west.
"All sizes, from the males to the larger females," he said. "It's kind of odd."
Steil said the fish he has seen have been dead a while, and are covered with fungus. Their gills have been eaten by predators.
"A lot of guys are thinking netters," Steil said.
Pete Harsh, a pro angler from Minnesota, said the commercial netters are a detriment to the walleye fishery.
"They're not freshly killed fish," he said. "When you see six or eight fish in a certain area, that's not right."
But Knight said he and other biologists don't know yet. As soon as feasible, he said, they'll try to come up with an estimate of how large the walleye kill is from the air. If they had flown over Port Clinton's city beach Thursday, they would have counted about 20 walleye, ranging from 15 to 24 inches, in a 300-foot stretch.
According to Knight, the walleye population in Lake Erie runs somewhere between 20 and 25 million. Of those, up to a third can die each year from natural causes.
In coming days, biologists will sample fish and perform tests.
If it turns out the fish were killed by a natural virus, Lake Erie's walleye are still fun to catch and good to eat, Knight said.
"They're still safe to eat, that's not an issue," Knight said, explaining that fish viruses are not transmittable to humans.
Dave O'Neal, a charter captain and operator of Happy Hooker Bait and Tackle in Carroll Township, said his customers are concerned, and have heard different things.
"What we heard from some researcher is extended stress from the hatch, winds and water temperature," O'Neal said.
Other scenarios floated by Happy Hooker customers include viruses and Canadian gill nets.
"I know people are worried," O'Neal said. "Who knows?"