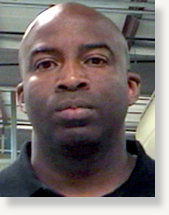 The girl wore a pink ribbon in her hair, faux pearl earrings and a grim expression as she reached the witness stand Wednesday, ready to describe how former New Orleans police officer
Christopher Buckley
raped her multiple times in 2008, when she was 13.
But she never got past her name.
Buckley's defense attorney, Robert Jenkins, called a sudden halt to the trial on its second day just as the teen prepared to testify. Buckley, who served on the force for 10 years, changed his plea to guilty as charged, copping to seven counts of forcible rape. Six of them relate to the sexual assault of the girl, now 15, and the seventh to an alleged attack against a woman in 2003, for which Buckley awaited a separate trial.
Afterward, in a narrow hallway at Orleans Parish Criminal District Court, one of Buckley's relatives allegedly accosted the girl. Police arrested Jasmine Buckley, 20, and charged her with obstruction of justice and intimidating, impeding or injuring a witness, online jail records show. It's not clear whether anyone was injured in the fracas. She was still being booked late Wednesday.
Christopher Buckley, 39, was the boyfriend of the teen's mother, also an officer with the NOPD. He resigned shortly after his arrest on Oct. 21, 2008, after the girl told her mother that Buckley raped her three times that month.
The Times-Picayune
is not naming the girl or her relatives.
Only after
his arrest
did police reveal that Buckley had been the subject of two internal probes stemming from
complaints of inappropriate behavior
with girls. Neither led to charges.
Each of the seven counts carries a prison sentence of five to 40 years. Judge Karen Herman scheduled sentencing for July 15.
The girl appeared composed, but then wept from the gallery as her father chastised Buckley at the start of victim impact statements, the formal venting hearing before sentencing. He noted that the girl once considered Buckley a father figure.
"In my absence, that was your job, something you should have done. You failed us all," he said. "I hope you realize you've affected not just my family, but your family. Thank you for pleading guilty for what you've done."
Buckley sat listening in a dark suit. He acknowledged that his guilty plea came with no set deal or assurance of leniency. Herman ordered a probation report to help determine a sentence for Buckley.
Earlier, Jenkins had suggested that the girl, who was sexually active, conjured a rape story to save face with her mother after Buckley found her hiding three boys in a closet.
A grand jury indicted Buckley in December 2008 for the alleged rapes of the girl and that of a woman in 2003.
The girl said Buckley insisted she take "a test" to show whether she was sexually active. That test turned out to be rape, said prosecutor Payal Patel.
On Tuesday, a hospital nurse who conducted a rape exam at Children's Hospital testified that the girl suffered "acute" tearing that suggested sexual assault, as well as scratches to her right hip.
After Buckley's guilty plea, a cousin got on the stand and said Buckley tried to sexually assault her in a graveyard, then sometime later forced himself on her. She wept openly, and the judge halted the proceeding for several minutes.
Prosecutors Patel and Rachel Africk had planned to present DNA evidence linking Buckley to the crime through a towel that has tested positive for his semen.
Buckley remains jailed in lieu of $2.8 million bond.
Christopher Bowman, a spokesman for District Attorney Leon Cannizzaro, emphasized that Buckley's change of plea came with no breaks.
"We're going to seek the max penalty that we can get on him," he said.
Source: The Times-Picayune