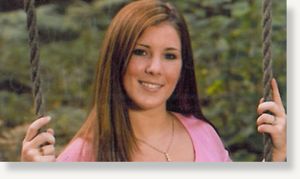 Three men have been arrested in the death of a Maine mother whose body was pulled from a pond days after her car was found abandoned in a New Hampshire parking lot with her baby inside, FoxNews.com confirms.
The New Hampshire attorney general's office said in a statement Wednesday that 28-year-old Anthony Papile, of Ossipee, N.H., has been charged with second degree murder in the death of 20-year-old Krista Dittmeyer.
Twenty-three-year-old Trevor Ferguson of Tamworth and 28-year-old Michael Petelis of Ossipee have each been charged with one count of conspiracy to commit robbery.
The young mother's body was found April 27 in a pond in Conway, N.H., about a quarter-mile from where her black Nissan Sentra was found idling in the parking lot of Cranmore Mountain ski area. The car's engine was still running and her baby daughter was found unharmed inside.
The Attorney General's Office said that the three men are scheduled to be arraigned Wednesday afternoon in Ossipee.
Dittmeyer, a 2008 graduate of Lake Region High School who grew up in Bridgton, Maine, and lived in Portland, was last seen alive on April 23. After authorities launched a search for the woman, divers pulled her body from Duck Pond in Conway.
Friends and family remembered Dittmeyer as a "lovable girl" who "always stood on her own two feet."
"She worked to support herself as long as I can remember," family friend Sandy Pasquale said in an interview last month with FoxNews.com. "She was a beautiful young girl ... the apple of my eye."