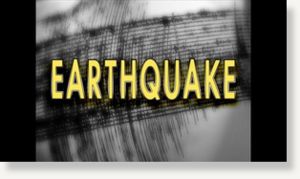 Searsport, Maine - As many as 30 tiny earthquakes have been detected over the last few days in the area between Belfast and Bucksport, but geologists say there's no cause for alarm.
"Microquakes is what we call them," Henry Berry, a bedrock geologist with Maine Geological Survey, said in a phone interview Tuesday afternoon. "Unless you were right there, you wouldn't notice them."
But plenty of people have been noticing, Searsport Police Chief Dick LaHaye said Tuesday afternoon, just minutes after he dispatched an officer to Savory Road, where a resident had called to inform authorities about another earthquake.
They've responded to calls about gunshots and shotgun blasts, calls from people who felt their feet vibrate along with the earth and calls about things falling off shelves - all of which were determined to be related to the earthquake, he said.
"We'll continue to investigate," LaHaye said. "There's obviously something going on. It's outside of the police purview at this point, but we'll continue to respond to any and all calls that come in."
The quakes have all measured less than 2 on the Richter magnitude scale, according to a press release from the Maine Department of Conservation. On that scale, the threshold at which damage can occur is magnitude 5.
Typically, Maine experiences several small earthquakes of magnitude 2 or less each year, according to Dr. Robert Marvinney, Maine state geologist and director of the Maine Geological Survey.
The quakes occur in response to the movement of large rock plates that make up Earth's crust, even though Maine is not near a plate boundary, where most of the large earthquakes occur, he said.
"The crust in Maine is still adjusting to the loss of thick ice at the end of the last ice age, and this may be a cause for some earthquakes," Marvinney said in the release.
A few people who were near the microquake epicenters contacted authorities because they heard unusual noises, Berry said.
"Probably the thing you would notice would be noise - it would be a bang or a pop," he said, "almost like the ice cracking in a pond in the winter."
A dispatcher at Waldo County Regional Communications Center said Tuesday that there have been some calls from concerned residents, mostly from the Searsport area.
"They don't know what's going on," she said. "They think it's blasting."
According to Berry, the tiny quakes are not unusual for the state, although having so many of them in such a small amount of time - called a "swarm" by geologists - is less common.
The earthquakes are shallow, geologically speaking, Berry said, although they are located 2 or 3 miles deep into the Earth's crust.
He said that the eastern part of North America is not located near the edge of a tectonic plate, but within a large plate.
"Places where there are large and frequent earthquakes, such as California or Japan or Indonesia, those are places that are on plate boundaries," the geologist said.
Earthquake swarms in Maine's past include about three dozen larger earthquakes that hit the Bar Harbor area in 2006, causing minor rock-fall damage. The largest of those registered 4.2 on the Richter scale.
In 1967 in the Augusta area, at least 12 events occurred, with the largest registering 3.9.
The Maine Emergency Management Agency recommends that residents take the following steps to prepare for an earthquake:
Check for hazards in the home.
Identify safe places indoors and outdoors.
Educate yourself and family members.
Have emergency supplies on hand.
Develop an emergency communication plan.
Anyone who has felt the earthquakes can report the occurrence to the Maine Geological Survey at mgs@maine.gov.
For more information, visit the Maine Geological Survey online
here
or check out earthquake preparedness tips from the Maine Emergency Management Agency
here.