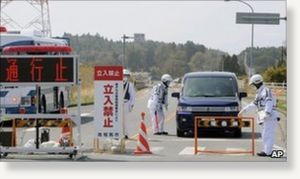 Japan has made it illegal to enter a 20km (12-mile) evacuation zone around the stricken Fukushima nuclear reactor.
People were urged to leave the area shortly after the 11 March earthquake and tsunami crippled the plant, but the order was not enforced by law.
Cooling systems were knocked out by the twin disasters and radiation has been leaking from the plant.
Meanwhile a strong earthquake hit eastern Japan. The magnitude 6.1 quake shook buildings in Tokyo.
The epicentre of Thursday's tremor was in Chiba prefecture, east of the capital.
Screening
It is not clear how many people are still living in the evacuation zone, but reports said police had counted at least 60 families.
After the disaster the government also declared a wider 10km zone around the 20km evacuation area where people should either stay indoors or leave.
It later recommended that people also evacuate parts of that area as well. "The plant has not been stable," said chief government spokesman Yukio Edano.
"We have been asking residents not to enter the area as there is a huge risk to their safety," he said. "Unfortunately, there are still some people in the areas."
"Today... we have decided to designate the area an emergency area based on disaster law."
He said brief visits would be arranged, with one member of each family allowed back into each house for a two-hour period to pick up belongings, which would then be screened for contamination.
Those who entered illegally could face fines of up to JPY100,000 ($1,200, £730) or possible detention of up to 30 days.
Long wait
Most of the evacuees are living in sports hall and gymnasiums as they wait to return home.
It could be a long wait, says the BBC's Roland Buerk in Tokyo, as the plant's operator, Tokyo Electric Power Co (Tepco), has said it aims to bring the reactors to a cold shutdown within nine months.
The evacuation zone will be reassessed then, adds our correspondent.
On Thursday Prime Minister Naoto Kan visited evacuees in Fukushima prefecture. As he left, he was reportedly heckled by some.
"Are you leaving already?" one man reportedly asked, with another evacuee calling on Mr Kan to "exercise much more leadership".
Mr Kan apologised, adding: "The government as a whole is doing our best to implement the timetable without delay, or speed it up."
Robots measure radiation levels (footage courtesy of Tepco)
Workers at the Fukushima Daiichi plant are attempting to remove highly radioactive water from a reactor building to allow repair work to the cooling systems knocked out on 11 March.
Emergency workers have been unable to enter any of the damaged reactor buildings at the plant since then.
Robots sent inside the buildings found levels of radiation that would make it impossible for workers to remain there for long periods.
Speaking in Tokyo ahead of a meeting with Mr Kan, Australian Prime Minister Julia Gillard promised a secure and reliable supply of liquefied natural gas (LNG) to Japan to help it meet shortages caused by the damaged plant.
"Japan will rebuild and Australia will help as a friend," she said. "We have great admiration for Japan's people and great confidence in Japan's future."
Nearly 14,000 people have been confirmed to have died in the earthquake and tsunami, and more than 13,000 people are missing.