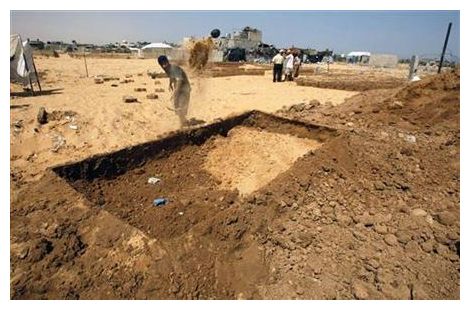 Khan Younis - Five thousand years of fascinating history lie beneath the sands of the Gaza Strip, from blinded biblical hero Samson to British general Allenby.
The flat, sandy lands on the Mediterranean's southeastern shore have been ruled by Ancient Egyptians, Philistines, Romans, Byzantines and Crusaders.
Alexander the Great besieged the city. Emperor Hadrian visited. Mongols raided Gaza, and 1,400 years ago Islamic armies invaded. Gaza has been part of the Ottoman Empire, a camp for Napoleon and a First World War battleground.
But archaeology here does not flourish.
"The only way to preserve what we discover is to bury it until the proper tools are available," says Hassan Abu Halabyea of the Gaza ministry of Tourism and Archaeology.
"We lack the capability, the support and the proper materials needed to maintain this historical site or that. We bury it to preserve it from destruction," he says.
ONE-MAN MUSEUM
Waleed Al-Aqqad is an amateur archaeologist who has turned his house into a museum of ancient artifacts, cramming his rooms with old weapons and a collection of clay jars centuries old.
"This is a clay-made oil-fueled lighting tool that goes back to the Greek era of 93 A.D. This is another that was made during the Roman time in 293 A.D," he says.
"This is a spear from the Ottoman times," he beams.
Marble plaques, swords and coins decorate the walls and the courtyard of his home in Khan Younis, adorned with the sign: "Welcome to Aqqad's Cultural Museum."
The 54-year-old Palestinian has spent 30 years searching and digging, sometimes in risky areas near the fortified Israeli border. Israel ended its 38-year occupation of Gaza and pulled out in 2005, but still blockades the hostile enclave.
His antiquities display symbols of the Christian and Muslim civilizations that have marked the territory over 2,000 years, recovered from the sites of ancient churches and cemeteries.
"I undertook this work in order to preserve Palestinian history. I wanted to salvage it from being wasted or falsified. I tried to save whatever can be saved," explains Aqqad, displaying a rusty cannon he says he hid from Israeli troops.
SAINT HILARION
But one man's enthusiasm cannot do justice to what still lies buried in densely populated Gaza, where 1.5 million Palestinians have more on their minds than ancient history.
In Zawayda village, 15 kms (10 miles) from Gaza City, Abu Halabyea's ministry struggles to preserve the site of the Saint Hilarion monastery, battling lack of know-how and tools.
Located near the Nusseirat refugee camp in central Gaza Strip, it dates back to 329 AD when Hilarion returned from Egypt to Gaza after studying under Saint Anthony. It consists of several structures surrounded by an outer wall, including two churches, a burial site, a baptism hall and dining rooms.
First discovered in 1992, excavation work has gone slowly. At several points when digging stopped, the site had to be buried in sand for protection.
Work has been overseen by French experts who make seasonal trips to explore and supervise excavation, but they take their tools with them when they go home, says Abu Halabeya.
Fadel Al-A'utul, in charge of the French work, said two French archaeologists began visiting Gaza in the 1990s but had now shifted their attention to other Arab countries.
The United Nations Education, Scientific and Cultural Organization, UNESCO, and the Jerusalem-based Ecole Biblique et Archaeologique are helping to prepare for a proper museum in Gaza that would be funded by Switzerland, though no date has been finalized for a start up, Al-A'utul said.
In the meantime, Gaza students do what they can to keep archaeological work going. But life's realities get in the way.
Since its seizure by the armed Islamist movement Hamas in 2007, Gaza has paid a heavy price for the hostility its latest rulers display toward Israel, which Hamas refuses to recognize.
Ironically, Gaza today may seem closer to some form of independence than at any time in its history of invasion and occupation. But for the United Nations, Israel's tight control of land, air and sea access means it is still effectively an occupied territory -- a definition Israel strongly denies.
Islamist rocket and mortar strikes at Israeli land and towns are met with Israeli airstrikes and tank fire, in a never ending war of nerves that spilled over into all-out conflict in the winter of 2008-2009 and flared up again just last weekend.
It is hardly an inviting climate for the world's archaeological experts other than, perhaps, the mythical Indiana Jones. And it would not be Gaza if there were no heated disputes concerning the role of the Israelis.
Abu Halabeya accuses them of appropriating antiquities they discovered during the occupation of Gaza which he says are now housed in two museums in Israel, including the Rockefeller Archaeological Museum in Jerusalem which boasts a treasury of finds ranging from the Stone Age to the 18th Century.
"Ministry officials have met representatives of various international institutions and urged them to help in returning antiquities and archaeological items that were taken out of Gaza Strip," he says.